10th Annual Sanfilippo Foundation Halloween Silent Film Gala
October 27, 2018 - The Sanfilippo Foundation's Silent Film & Vampire's Kiss Gala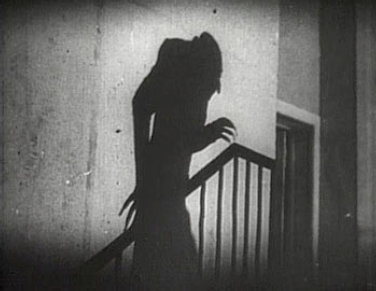 This is our 10th anniversary of the Foundation Gala, and we are pulling out all the (organ) stops.
We begin the evening with an hour of touring the Collection in the house and admiring the effort guests put into their fun/scary costumes. Then we'll assemble in the theater and experience one of the greatest B&W Silent films ever made, the 1922 version of Nosferatu: a Symphony of Horror, staring Max Shreck. Our master organist, Jelani Eddington has prepared an original, brilliant soundtrack with sound effects to send chills down your spine. This isn't a movie. This is an experience.
After the movie, we'll transport you to the Carousel Pavilion for libations, socializing, and an elegant sit-down dinner, followed by dancing the night away with our period band, Paris Swing, and of course, a carousel ride, too. But that's not all. As we always do, we'll surprise you!
Costumes are optional, but encouraged for fun. Proceeds from this event help the Foundation offer the Estate & Collections to over two dozen charities annually. We look forward to seeing your creativity and joy.
Tickets are $130 each
Doors to Sanfilippo Residence open for house touring: 5:00 pm
Touring of the house Collections 5 pm - 5:45 pm
Silent Film 5:45 pm - 7:15 pm (no touring of house during film)
Carousel Pavilion Opens - 7:00 pm (for those wishing to skip the film)
House Guests shuttled to Carousel Pavilion 7:15 pm Cocktails 7 pm - 8:00 pm
Dinner 8:00 pm
Special Surprise during dinner
Live Band - Paris Swing 9 pm - 11 pm. (Carousel rides, too)
Proceeds from our annual event help us assist more than a dozen and a half charities annually. In exchange for your ticket you get: Touring of the Collection in the Residence; 80-minutes of silent film on our big screen with live organ accompaniment; Free parking; Free shuttle ride to house & Carousel Pavilion; Libations and exquisite food; Carousel rides; Live Swing Band; Prizes for the best costumes; And knowing you're helping local and regional charities. Tickets are $130 each, with limited seating.
This event sells out quickly every year, so we strongly recommend you order tickets early (Internet sales only, phone or email orders will not be accepted). Tickets will NOT be available at the door.
Purchase your tickets today: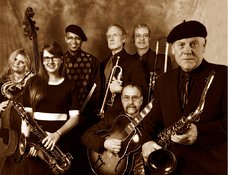 Paris Swing
Join our mailing list:
Please be assured that we never sell or exchange email addresses, this is for the Sanfilippo Foundation use ONLY.