The Sanfilippo Foundation Is Proud to present the "Place de la Musique"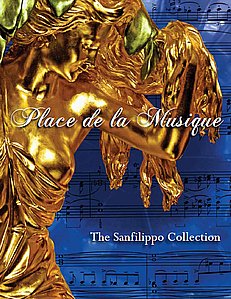 The Sanfilippo Foundation Booklet - For the first time, we are making the Sanfilippo Foundation's booklet available online in pdf format (pdf). This 38-page booklet describes in detail how Jasper Sanfilippo's Estate and Collection came to be. It showcases not only the Sanfilippo house and Carousel Pavilion, but the various types of automatic music instruments in the Collection with beautiful photography and interesting facts. With many, large-format photographs, and detailed photograph inserts, you'll experience American and European orchestrions, Edison and Victrola phonographs, music boxes and pinned cylinders, the Wurlitzer Theater organ, and the items in the pavilion, including the 1890 carousel. Sections on the steam engine gallery, the monumental clock tower, train cars, as well as the mission of the Sanfilippo Foundation are also highlighted.
We are asking for a $10 (minimum) donation to obtain the pdf file for viewing on your home computer, laptop, tablet, or phone. The proceeds benefit the continued work of the Sanfilippo Foundation, which assists charities that serve Children & Families, Health & Human Services, and Arts & Culture.
Upon donating, you'll receive an email from our credit card processor, PayPal, as your receipt. Then the Foundation will send you a separate email with the pdf document attached. Enjoy!
PERFUME PASSAGE FOUNDATION

Preserving the history, beauty, and artistry of perfume bottles, compacts, ephemera and related vanity items. Enjoy an intimate, docent-guided tour.

THE SANFILIPPO COLLECTION

Preview the Sanfilippo Collection: a premier collection of automatic music instruments, the world's largest restored theatre pipe organ and more!

UPCOMING
CHARITY EVENTS

We're always adding new charity events to our schedule. Check out the wide variety of upcoming concerts and special events that use our one-of-a-kind facility.
The Sanfilippo Foundation is proud to partner with various non-profit organizations that may be of interest to our visitors. Please take a moment to visit our Partners Page to find out more about these organizations.
The Sanfilippo "Place de la Musique" is known worldwide for its magnificent collections of beautifully restored antique music machines, phonographs, arcade and gambling machines, chandeliers, art glass, the world's largest restored theatre pipe organ, the most spectacular European salon carousel in existence, street and tower clocks, steam engines and other functional mechanical antiques, displayed within a breathtaking French Second Empire setting.
The primary motive behind this collection is the preservation and sharing of the experience of these marvelous inventions of the Western World.
The Place de la Musique contains the largest collection of restored automatic musical instruments in the world, including:
Music Boxes and Phonographs
Coin-operated Pianos
Violin Machines
Photoplayers
American and European Orchestrions
Dance Organs
Fairground and Band Organs and Calliopes
The World's Largest Indoor Theatre Pipe Organ
Charities the Sanfilippo Foundation has assisted with fundraising in 2019.
For a complete list of charities from 2008 - 2019, click this link: Sanfilippo Foundation Charity List.
2019
WINGS - Women In Need Growing Stronger - Palatine, IL
Interfaith Community for Detained Immigrants - Chicago & McHenry, IL
Resources for Community Living - Rolling Meadows, IL
Chicago Master Singers
Barrington Breakfast Rotary/Rotary International
Illinois Railway Museum, Union, IL
St. John Universal Church of Christ - Palatine, IL
Midwest Mozart Festival - Woodstock, IL
Arden Shore Child & Family Services - Waukegan, IL
Carousel of Possible Dreams, (Festival of Children Foundation, CA)
Spirito Singers, - Oakbrook, IL
Chicago Academy of the Arts - Chicago, IL
Royal Family Kids Camp (Foster Children)
Jesse Rees Foundation (childhood cancer)
Turning Pointe Autism Foundation, Naperville
Golden State Foods Foundation
Countryside Grade School PTO - Barrington
Music Box Society International
Barrington Dance Ensemble
2019 Student Silent Film Festival - participants:

Lyons Township High School
Maine South High School
Homewood-Flossmoor High School
Mundelein High School
Glenbroook North High School
Vernon Hills High School
Neuqua Valley High School
York High School
Little Sisters of the Poor - Palatine
Antique Phonograph Society
Boy Scouts of America - Three Fires Counsel
Pipe Organ Encounter - Midwest region
IMPACT 100 - Chicago
Journey Care Hospice Center, Barrington
Thomas J. Boyle Memorial Foundation - Barrington Hills, IL - toy drive recipients:

Gigi's Playhouse - Hoffman Estates
Hines Fisher House
University of Chicago Medicine, Comer's Children Hospital
American Theater Organ Society
The Bridge Child & Family Services, Palatine, IL
St. Jude Children Research Hospital
Living Well Cancer Center - Geneva, IL
Gigi's Playhouse - Hoffman Estates, IL
Lake Zurich Band Boosters - Lake Zurch, IL
Elgin Symphony - Elgin, IL
Saints Peter & Paul Catholic School - Cary, IL

Join our mailing list:
Please be assured that we never sell or exchange email addresses, this is for the Sanfilippo Foundation use ONLY.