Upcoming Events at The Sanfilippo Foundation
Events, News and Tour Opportunities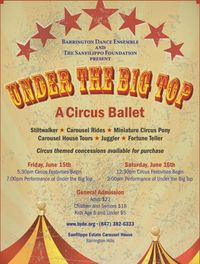 June 15 & 16 - Barrington Dance Ensemble - Under the Big Top Ballet in the Carousel Pavilion
A family event featuring a lovely ballet with the Eden Palais Carousel as the backdrop. Stilt walker, juggler, fortune teller, miniature circus ponies, and more. A real engaging event for the family, and a ride on the 1890 Eden Palais Carousel, too.
Tickets go on sale to the public on April 16th.
We're sorry, but Under the Big Top is SOLD OUT
---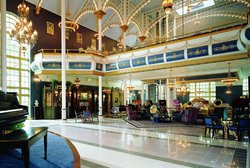 June 16, July 21, August 18 and September 15 - Sanfilippo Foundation Summer Concert Series
We're excited to announce our line-up for the 2018 Summer Concert Series. Tickets for the series and individual concerts will go on sale on April 3 on the Foundation's website. Each includes up to 90-minutes of touring, a 90-minute concert, followed by a visit to the carousel pavilion.
To find out more about the concerts and to purchase tickets, vist the Summer Concert Series page.
---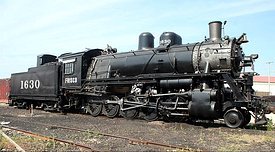 June 24 - Illinois Railway Museum Benefit Concert
Touring of the Sanfilippo Collection, a Wurlitzer Theater Organ Concert featuring Dave Callendine on the Sanfilippo Wurlitzer, and a visit to the Carousel Pavilion, make this a great event to experience the Estate, and support the fine work of the Steam Department at the Illinois Railway Museum.
The afternoon will feature a concert in the Estate's Music Theater along with a silent movie short comedy accompanied live on the Mighty Wurlitzer Theatre Pipe Organ! The original theater organ, a 1927 Wurlitzer from the Omaha Theater in Nebraska, has been expanded and now controls 8,000 pipes, percussions and sound effects.
Win Throttle time and a cab ride on the 1630 Locomotive in the raffle.
Click here for tickets to Illinois Railway Museum's Benefit at Sanfilippo.
---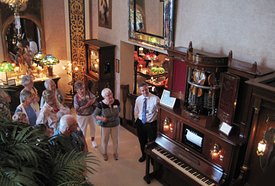 June 26 - Docent-Guided Tour
We get many requests for individual tickets for one of our 3-hour Docent-Guided Tours of the Collection. This tour includes 2 hours in the Sanfilippo Residence and one hour in the Carousel Pavilion with the Foundation Director as your tour guide:
Tuesday, June 26 - 1:30 pm
The cost is $25 per guest. Limited tickets to each tour; first come, first served. Tickets only available through The Sanfilippo Foundation Website. Come hear the story of the family and Collection, demonstrations of a variety of music machines, a mini-concert on the Mighty Wurlitzer and a the history of the items in the Carousel Pavilion. There's a reason many folks have taken this tour more than a few times! It's educational and highly entertaining.
We're sorry, but this tour SOLD OUT
---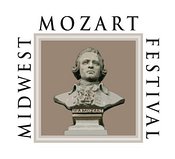 July 29 - Midwest Mozart Festival Featuring a 17-piece String Orchestra
This opportunity to hear this veteran orchestra in the acoustically-perfect, and intimate Sanfilippo Theater is always a moving experience. The intimacy of Mozart and his contemporary's music and our theater enable the audience to live the music like nowhere else. Join us for the magical experience.
To learn more about this special concert, visit our Midwest Mozart Festival page.
---
Return to this web page often for an update of our events open to the public. You can also join our E-Newsletter List (below) and be among the first to receive notice of all our events, and how to obtain tickets.
---
Visiting the Sanfilippo Estate
The Sanfilippo Estate is a private residence not open to the general public except through pre-arranged charity events and pre-arranged group tours of 40 or more guests, and a limited number of corporate events. Interested groups may contact the Foundation Director by email: director@sanfilippofoundation.org for more information. We do not offer the Estate for weddings, wedding related activities, nor children's parties.
Special Events (concerts, gala fundraisers) can be arranged for Charity Organizations and Corporate Groups. Email the Sanfilippo Foundation Director: director@sanfilippofoundation.org. Please include a contact phone number.
Tour Groups: 3-Hour, Docent-Guided Tours of the Sanfilippo Collection are available for groups of 40 or more. Send an email to: info@sanfilippofoundation.org. Please include the name of your group and a contact phone number.
Individuals looking to visit the Estate are encouraged to find a group (such as your local libraries, park districts, senior centers, etc.) who can put together the required minimum for one of our 3-hour Docent-Guided Tours and then have the organization contact the Foundation Director; or you can visit one of the websites of the charities holding events at the Estate (links provided) and obtain tickets to an event listed; or you can attend a Sanfilippo Foundation event -- all are updated regularly on this website. We also encourage individuals to sign up for our E-Newsletter. On occasion, we offer individual tickets to a guided tour to our E-Newsletter subscribers. Our preference for initial contact is by email.
Join our mailing list:
Please be assured that we never sell or exchange email addresses, this is for the Sanfilippo Foundation use ONLY.