Upcoming Events at The Sanfilippo Foundation
Events, News and Tour Opportunities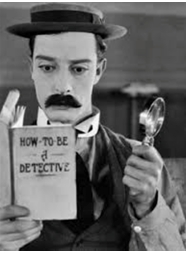 October 26 - Sanfilippo Foundation Annual Halloween Silent Film & Gala - The Mystic Moonlight Masquerade
This crazy party is always the hit of the year and sells out quickly. We begin in the Sanfilippo residence with an hour of open house touring (5 pm - 6 pm), followed by a feature silent movie (6 pm - 7 pm), the comedy, Sherlock Jr. starring Buster Keaton. The movie is accompanied on the Sanfilippo Wurlitzer by organist Jelani Eddington.
Following the movie, the Carousel Pavilion opens (7 pm) for drinks, a sit-down elegant dinner (8 pm) with surprise entertainment provided during dinner, and a live swing band, Paris Swing, for dancing the night away. Of course it also includes a ride on the carousel.
Costumes are optional, but highly encouraged for fun. Proceeds benefit the Sanfilippo Foundation's efforts to assist dozens of charities annually with fund raising.
Tickets are $130 each and this event sells out quickly every year, so please purchase early!
| | |
| --- | --- |
| Purchase Tickets Today: | Paris Swing |
---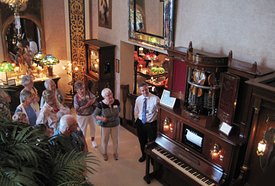 November 12 and November 13 - 1:30 pm - Docent-Guided Tour
We get many requests for individual tickets for one of our 3-hour Docent-Guided Tours of the Collection. This tour includes 2 hours in the Sanfilippo Residence and one hour in the Carousel Pavilion with the Foundation Director as your tour guide.
Cost is $25 per guest. Limited tickets available; first come, first served. Tickets only available through The Sanfilippo Foundation Website. Come hear the story of the family and Collection, demonstrations of a variety of music machines, a mini-concert on the Mighty Wurlitzer and a the history of the items in the Carousel Pavilion. There's a reason many folks have taken this tour more than a few times! It's educational and highly entertaining.
Both tours are SOLD OUT
---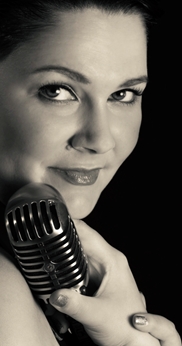 November 16 - La Vie en Rose: Chansons, Jazz, and France. - The Rose Colella Quartet
We've extended our Concert Series to include a special, November 16 performance: La Vie en Rose, with the Rose Colella Quartet.
Join us for a French-themed evening of old time favorites sure to transport you to turn-of-the-century Paris, and the perfect compliment to visiting our new Paris Passageway (The Jeffrey Sanfilippo Collection). Proceeds from the this event benefit The Chicago Academy for the Arts: the nation's premier visual and performing arts high school.
Doors open at 6 pm for touring the Sanfilippo Collection, followed by the 90-minute concert at 7:30 pm in the Sanfilippo Theater, with a visit to the carousel pavilion at 9 pm for a ride on the Eden Palais French Carousel. Tickets are $40 each. Paris-themed attire is welcomed if you desire to get into the spirit of the evening. Here's your chance to enjoy a fabulous evening of music while helping out the students at the Chicago Academy for the Arts.
Buy your tickets today:
---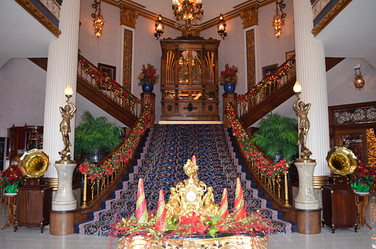 December 6, 7 and 8 - Annual Sanfilippo Christmas Concerts
Enjoy an unforgettable experience of Christmas selections and more on the 8,000 pipe Mighty Sanfilippo Wurlitzer.
Organist extraordinaire, Dave Wickerham returns to create a magical experience for folks of all ages. His command of the Wurlitzer is unprecedented, and our special, surprise guest this year adds to the fun.
The Sanfilippo Home will be decorated for the Holidays and the Automatic Music Instruments will have Christmas rolls playing. This is a great way to start your Holiday season (or as a great gift to friends) and we look forward to everyone seeing what we have done this year.
To find out more and to purchase tickets, visit the Christmas Concerts Page.
---
Return to this web page often for an update of our events open to the public. You can also join our E-Newsletter List (below) and be among the first to receive notice of all our events, and how to obtain tickets.
---
Visiting the Sanfilippo Estate
The Sanfilippo Estate is a private residence not open to the general public except through pre-arranged charity events and pre-arranged group tours of 40 or more guests, and a limited number of corporate events. Interested groups may contact the Foundation Director by email: director@sanfilippofoundation.org for more information. We do not offer the Estate for weddings, wedding related activities, nor children's parties.
Special Events (concerts, gala fundraisers) can be arranged for Charity Organizations and Corporate Groups. Email the Sanfilippo Foundation Director: director@sanfilippofoundation.org. Please include a contact phone number.
Tour Groups: 3-Hour, Docent-Guided Tours of the Sanfilippo Collection are available for groups of 40 or more. Send an email to: info@sanfilippofoundation.org. Please include the name of your group and a contact phone number.
Individuals looking to visit the Estate are encouraged to find a group (such as your local libraries, park districts, senior centers, etc.) who can put together the required minimum for one of our 3-hour Docent-Guided Tours and then have the organization contact the Foundation Director; or you can visit one of the websites of the charities holding events at the Estate (links provided) and obtain tickets to an event listed; or you can attend a Sanfilippo Foundation event -- all are updated regularly on this website. We also encourage individuals to sign up for our E-Newsletter. On occasion, we offer individual tickets to a guided tour to our E-Newsletter subscribers. Our preference for initial contact is by email.
Join our mailing list:
Please be assured that we never sell or exchange email addresses, this is for the Sanfilippo Foundation use ONLY.