Upcoming Events at The Sanfilippo Foundation
Events, News and Tour Opportunities
PLEASE READ THIS IMPORTANT INFORMATION: All tours and events are Vaccination and Mask OPTIONAL, but encouraged. We do ask any guest who is not feeling well the day of the tour to not attend, and we will refund your ticket, and/or make every effort to add you to a future tour. It is our intention to provide the safest environment for all guests, and we thank you for your cooperation. Protocols subject to any change from the Illinois Department of Health and the Illinois Governor's Office.
---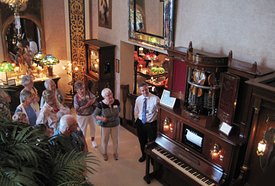 Introductory Tour - Oct 3, Oct 10, Oct 18, Nov 1, and Nov 15, 2023
We get many requests for individual tickets for one of our 3-hour Docent-Guided Tours of the Collection. This tour includes 2 hours in the Sanfilippo Residence and one hour in the Carousel Pavilion with the Foundation Director as your tour guide.
Cost is $30 per guest. Limited tickets available; first come, first served. Tickets only available through The Sanfilippo Foundation Website. Come hear the story of the family and Collection, demonstrations of a variety of music machines, a mini-concert on the Mighty Wurlitzer and a the history of the items in the Carousel Pavilion. There's a reason many folks have taken this tour more than a few times! It's educational and highly entertaining.
After purchase, you will receive a confirmation email from Paypal, our credit card processor, as your receipt. We will send you a second email within a day with your ticket(s) and details to attend. We highly encourage carpooling if attending with family and friends.
Purchase your tickets today:
10/3/23 at 1:30 pm


10/10/23 at 9:30 am


10/18/23 at 1:30 pm


11/1/23 at 1:30 pm


11/15/23 at 1:30 pm


---
October 28, 2023 - Halloween Moonlight Madness Gala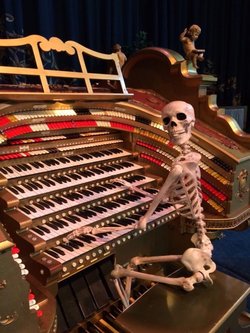 With our Collection of antique music machines dating from the mid 1800s, a frequent question I get from visitors is, "Are there ghosts and spirits in the house?" The answer is...definitely, but they are easier to see and hear when we hold our annual (with a slight interruption for covid years) Halloween Moonlight Madness Gala. So mark your calendars for Saturday, October 28, 2023 as the Victorian Estate will be rockin' and swinging. You don't want to miss the party. This will sell out early!
House touring 5 pm - 6 pm.
Halloween Wurlitzer Concert Film on our big screen in the theater (general seating) 6 pm - 7 pm.
Pavilion opens 7 pm for cocktails. (Those attending the house touring and concert film will be shuttled to the pavilion at 7 pm. If you just want to come to the party, pavilion doors open at 7 pm.)
Cocktails and appetizers from 7 pm - 7:45 pm.
Sit down Halloween Dinner 7:45 pm - 9:00 pm with entertainment by our special guests.
Dancing to The Paris Swing Band 8:30 pm - 9:15 pm
Carousel Rides 9:15 pm - 9:45 pm
Dancing to The Paris Swing Band 9:45 pm - 10:30 pm.
TICKETS INCLUDE:
House touring, Wurlitzer Halloween Concert on the big screen, open bar, elegant sit-down dinner, special entertainment, dancing to Paris Swing Band, and carousel rides. Prizes for best costumes, too.
For one week VIP Tables of up to 10 seats will be on sale first. You purchase one of the VIP tables and you can bring up to 10 guests, or seat your smaller party at your own, private table. Individual ticket sales will go up one week later. You can purchase 1 to 9 individual tickets and if you don't email us your seating preferences with other friends purchasing tickets, we'll seat you with other excited, scary and/or well dressed guests. (It's a party after all, so meeting new folks is always good!). We promise to do our best seating individuals with friends if you email us those preferences early.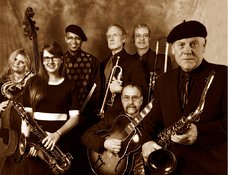 Private VIP Tables (up to 10 seats) are $1400 and individual tickets are $140 each.
You can't get a more enjoyable setting for a Halloween Party. Our guests get into dressing up in everything from scary, to Victorian, to 20s flapper, and more. Spectacular musicians make up PARIS SWING BAND, and guests dance the night away. Join us!
| | |
| --- | --- |
| VIP Tables (seats 10) | Individual Tickets |
---
UPCOMING CHARITY EVENTS:
By attending these events, you can explore the collection and support these fine, local charities.
October 7 -- Barrington Dance Ensemble Gala -- https://barringtondance.org/fall-gala/
October 21 - Carousel of Possible Dreams - for sponsorships, contact Gregory at director@sanfilippofoundation.org. More info coming soon!
---
SAVE THE DATES
Sanfilippo Christmas Concerts:
Dec. 1 - Wurlitzer Concert
Dec. 2 - Dinner & Wurlitzer Concert
Dec. 3 - Wurlitzer Concert
More information coming soon.
---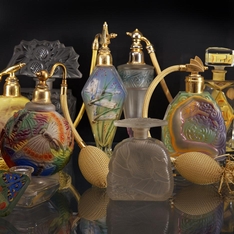 Various Dates - Guided tour of the new Perfume Passage at the Sanfilippo Estate
The Perfume Passage Foundation mission: Preserving the history, beauty, and artistry of perfume bottles, compacts, ephemera and related vanity items, the Perfume Passage Foundation seeks to educate and inspire visitors by illuminating the connection between perfume and the human experience.
Come visit the unique window displays and travel through time and history with our intimate, docent-guided tour through the world of perfume bottles, vanity items, ephemera and much more.
For information and tour tickets for all four galleries, please visit Perfume Passage Foundation
---
Return to this web page often for an update of our events open to the public. You can also join our E-Newsletter List (below) and be among the first to receive notice of all our events, and how to obtain tickets.
---
Visiting the Sanfilippo Estate
The Sanfilippo Estate is a private residence not open to the general public except through pre-arranged charity events and pre-arranged group tours of 40 or more guests, and a limited number of corporate events. Interested groups may contact the Foundation Director by email: director@sanfilippofoundation.org for more information. We do not offer the Estate for weddings, wedding related activities, nor children's parties.
Special Events (concerts, gala fundraisers) can be arranged for Charity Organizations and Corporate Groups. Email the Sanfilippo Foundation Director: director@sanfilippofoundation.org. Please include a contact phone number.
Tour Groups: 3-Hour, Docent-Guided Tours of the Sanfilippo Collection are available for groups of 40 or more. Send an email to: info@sanfilippofoundation.org. Please include the name of your group and a contact phone number.
Individuals looking to visit the Estate are encouraged to find a group (such as your local libraries, park districts, senior centers, etc.) who can put together the required minimum for one of our 3-hour Docent-Guided Tours and then have the organization contact the Foundation Director; or you can visit one of the websites of the charities holding events at the Estate (links provided) and obtain tickets to an event listed; or you can attend a Sanfilippo Foundation event -- all are updated regularly on this website. We also encourage individuals to sign up for our E-Newsletter. On occasion, we offer individual tickets to a guided tour to our E-Newsletter subscribers. Our preference for initial contact is by email.
Join our mailing list:
Please be assured that we never sell or exchange email addresses, this is for the Sanfilippo Foundation use ONLY.