Upcoming Events at The Sanfilippo Foundation
Events, News and Tour Opportunities
June 30 - Amazing Grace Gala: Little Sisters of the Poor

Celebrating 150 years of the arrival of Little Sisters' in the U.S., the Amazing Grace Gala at the Sanfilippo Estate serves as an opportunity to visit the Estate and benefit the programs of Little Sisters of the Poor. Join us for a spiritual celebration of offering the neediest elderly of every race and religion a home where they will be welcomed as Christ, cared for as family and accompanied with dignity until God calls them to himself.

For more information and tickets, visit the Little Sisters of the Poor website.
---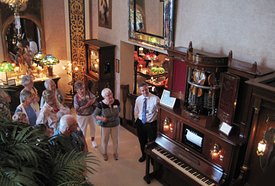 July 2, July 9 - 1:30 pm - Docent-Guided Tour
We get many requests for individual tickets for one of our 3-hour Docent-Guided Tours of the Collection. This tour includes 2 hours in the Sanfilippo Residence and one hour in the Carousel Pavilion with the Foundation Director as your tour guide.
Cost is $25 per guest. Limited tickets available; first come, first served. Tickets only available through The Sanfilippo Foundation Website. Come hear the story of the family and Collection, demonstrations of a variety of music machines, a mini-concert on the Mighty Wurlitzer and a the history of the items in the Carousel Pavilion. There's a reason many folks have taken this tour more than a few times! It's educational and highly entertaining.
All Tours are Sold Out
---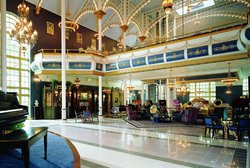 July 20, August 17 and September 21 - Sanfilippo Summer Concert Series
Each of our four Summer Concerts comes with up to 90 minutes of touring the Collection in the Residence, followed by a 90 minute concert, followed by a visit to the Carousel Pavilion for a ride on the Eden Palais Carousel. And we've reduced the price for 2019!
For more details and to purchase tickets, visit the Summer Concerts page.
---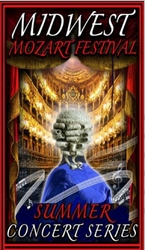 July 28 - Midwest Mozart Festival at Sanfilippo
This veteran, 17 - piece string orchestra in our acoustically perfect venue is a great way to spend a Sunday afternoon with the family. Conductor Brian Groner leads the orchestra in a program titled "A Gathering of Muses" that includes Mozart, Mendelssohn, Vivaldi, and a more contemporary composer, Libby Larson. Join us for touring the Sanfilippo Collection (doors open at 1:30 pm), followed by the concert at 3 pm, winding up with a visit to the Carousel Pavilion for a ride on the Eden Palais Carousel and dance, band, and fairground organ demonstrations. This is a partnership with the Midwest Mozart Festival and the Sanfilippo Foundation. Click Here For tickets to the July 28 Mozart Festival at Sanfilippo.
Two additional concerts will be held at the Woodstock Opera House in Woodstock, Illinois, the next two Sundays (Aug. 4 & Aug 11). Tickets for the August concerts can be purchased through the Woodstock Opera House on the Midwest Mozart Festival website. Thank you for supporting classical music in the suburbs.
---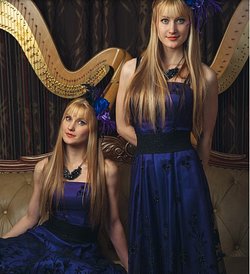 August 3 - The Harp Twins in Concert
Camille and Kennerly Kitt, known Worldwide as The Harp Twins, come to the Sanfilippo Estate for an exciting concert featuring contemporary rock, metal, and other favorites, as well as original songs on classical and acoustic harps. A dynamic performance is in store along with a fun presentation of growing up identical. The Harp Twins have filmed 7 videos at the Sanfilippo Estate which can be viewed here.
Doors open at 6 pm for up to 90-minutes of touring the Collection, followed at 7:30 pm by a 90-minute performance in the theater. After the concert, guests can visit the Carousel Pavilion where the Harp Twins will offer a Meet & Greet. CDs and other Harp Twins items will be available. Special Concert Pricing on this event is $35.00 per person. We are also asking, if so inclined, that guests bring a non-perishable item for our local Cuba Township Food Pantry. (Items can be dropped off upon arrival).
We're sorry, but this concert is SOLD OUT
---
Upcoming Foundation Events - Save the Dates

October 5 - Carousel of Possible Dream - 5:00 pm
October 26 - Sanfilippo Halloween Silent Film Gala - 5:00 pm
December 6, 7, & 8 - Sanfilippo Christmas Concerts
---
Return to this web page often for an update of our events open to the public. You can also join our E-Newsletter List (below) and be among the first to receive notice of all our events, and how to obtain tickets.
---
Visiting the Sanfilippo Estate
The Sanfilippo Estate is a private residence not open to the general public except through pre-arranged charity events and pre-arranged group tours of 40 or more guests, and a limited number of corporate events. Interested groups may contact the Foundation Director by email: director@sanfilippofoundation.org for more information. We do not offer the Estate for weddings, wedding related activities, nor children's parties.
Special Events (concerts, gala fundraisers) can be arranged for Charity Organizations and Corporate Groups. Email the Sanfilippo Foundation Director: director@sanfilippofoundation.org. Please include a contact phone number.
Tour Groups: 3-Hour, Docent-Guided Tours of the Sanfilippo Collection are available for groups of 40 or more. Send an email to: info@sanfilippofoundation.org. Please include the name of your group and a contact phone number.
Individuals looking to visit the Estate are encouraged to find a group (such as your local libraries, park districts, senior centers, etc.) who can put together the required minimum for one of our 3-hour Docent-Guided Tours and then have the organization contact the Foundation Director; or you can visit one of the websites of the charities holding events at the Estate (links provided) and obtain tickets to an event listed; or you can attend a Sanfilippo Foundation event -- all are updated regularly on this website. We also encourage individuals to sign up for our E-Newsletter. On occasion, we offer individual tickets to a guided tour to our E-Newsletter subscribers. Our preference for initial contact is by email.
Join our mailing list:
Please be assured that we never sell or exchange email addresses, this is for the Sanfilippo Foundation use ONLY.