Upcoming Events at The Sanfilippo Foundation
Events, News and Tour Opportunities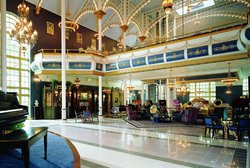 September 21 - Sanfilippo Summer Concert Series
Each of our four Summer Concerts comes with up to 90 minutes of touring the Collection in the Residence, followed by a 90 minute concert, followed by a visit to the Carousel Pavilion for a ride on the Eden Palais Carousel. And we've reduced the price for 2019!
For more details and to purchase tickets, visit the Summer Concerts page.
---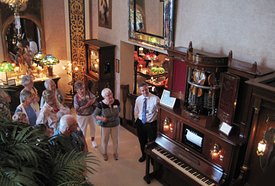 September 25 and October 16 - 1:30 pm - Docent-Guided Tour
We get many requests for individual tickets for one of our 3-hour Docent-Guided Tours of the Collection. This tour includes 2 hours in the Sanfilippo Residence and one hour in the Carousel Pavilion with the Foundation Director as your tour guide.
Cost is $25 per guest. Limited tickets available; first come, first served. Tickets only available through The Sanfilippo Foundation Website. Come hear the story of the family and Collection, demonstrations of a variety of music machines, a mini-concert on the Mighty Wurlitzer and a the history of the items in the Carousel Pavilion. There's a reason many folks have taken this tour more than a few times! It's educational and highly entertaining.
We're sorry, but both tours are Sold Out
---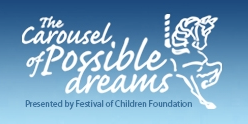 October 5 - Carousel of Possible Dreams
This special event is all about raising money for charities that serve children. In partnership with the Festival of Children Foundation (California), the Carousel of Possible Dreams will help raise funds for 6 charities that serve children: Turning Pointe Autism Foundation, Spirito! Singers, Royal Family Kids Camp #187 (foster children served), The Chicago Academy for the Arts, Golden State Foods Foundation, and the Jessie Rees Foundation (child cancer assistance).
There are two ways to help: Attend the event with a sponsoring table, or through online fundraising where you can win a Guided Tour of the Sanfilippo Estate simply by reaching a personal fund raising goal of $500 or more. We are particularly looking for Corporations that want to help out the kids. (Corporate personnel please contact me directly - 847-691-7425).
Click this link for more information - Carousel of Possible Dreams 2019 There's an easy way to sign up online and fund raise yourself, or contribute to one of the team members listed. We've raised over a million dollars with this event over the last 6 years, and with your help we can have our best year yet!
---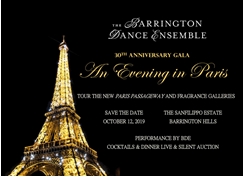 October 12 - Barrington Dance Ensemble - An Evening in Paris Gala
Come celebrate the 30th anniversary of Barrington Dance Ensemble with An Evening in Paris Gala and Dinner. Tour the Sanfilippo home, including the Paris Passageway fragrance gallery, followed by dinner, auctions, raffles, and entertainment by BDE dancers in the carousel pavilion. Barrington Dance Ensemble has consistently provided area children with dance opportunity, artistic discipline, confidence, and self-expression for 30 years. Join us for this community treasure charity, and escape to Paris for the evening.
Click here for An Evening in Paris Tickets
---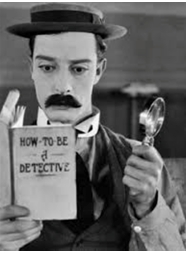 October 26 - Sanfilippo Foundation Annual Halloween Silent Film & Gala - The Mystic Moonlight Masquerade
This crazy party is always the hit of the year and sells out quickly. We begin in the Sanfilippo residence with an hour of open house touring (5 pm - 6 pm), followed by a feature silent movie (6 pm - 7 pm), the comedy, Sherlock Jr. starring Buster Keaton. The movie is accompanied on the Sanfilippo Wurlitzer by organist Jelani Eddington.
Following the movie, the Carousel Pavilion opens (7 pm) for drinks, a sit-down elegant dinner (8 pm) with surprise entertainment provided during dinner, and a live swing band, Paris Swing, for dancing the night away. Of course it also includes a ride on the carousel.
Costumes are optional, but highly encouraged for fun. Proceeds benefit the Sanfilippo Foundation's efforts to assist dozens of charities annually with fund raising.
Tickets are $130 each and this event sells out quickly every year, so please purchase early!
| | |
| --- | --- |
| Purchase Tickets Today: | Paris Swing |
---
Upcoming Foundation Events - Save the Dates

December 6, 7, & 8 - Sanfilippo Christmas Concerts
---
Return to this web page often for an update of our events open to the public. You can also join our E-Newsletter List (below) and be among the first to receive notice of all our events, and how to obtain tickets.
---
Visiting the Sanfilippo Estate
The Sanfilippo Estate is a private residence not open to the general public except through pre-arranged charity events and pre-arranged group tours of 40 or more guests, and a limited number of corporate events. Interested groups may contact the Foundation Director by email: director@sanfilippofoundation.org for more information. We do not offer the Estate for weddings, wedding related activities, nor children's parties.
Special Events (concerts, gala fundraisers) can be arranged for Charity Organizations and Corporate Groups. Email the Sanfilippo Foundation Director: director@sanfilippofoundation.org. Please include a contact phone number.
Tour Groups: 3-Hour, Docent-Guided Tours of the Sanfilippo Collection are available for groups of 40 or more. Send an email to: info@sanfilippofoundation.org. Please include the name of your group and a contact phone number.
Individuals looking to visit the Estate are encouraged to find a group (such as your local libraries, park districts, senior centers, etc.) who can put together the required minimum for one of our 3-hour Docent-Guided Tours and then have the organization contact the Foundation Director; or you can visit one of the websites of the charities holding events at the Estate (links provided) and obtain tickets to an event listed; or you can attend a Sanfilippo Foundation event -- all are updated regularly on this website. We also encourage individuals to sign up for our E-Newsletter. On occasion, we offer individual tickets to a guided tour to our E-Newsletter subscribers. Our preference for initial contact is by email.
Join our mailing list:
Please be assured that we never sell or exchange email addresses, this is for the Sanfilippo Foundation use ONLY.