Upcoming Events at The Sanfilippo Foundation
Events, News and Tour Opportunities
PLEASE READ THIS IMPORTANT INFORMATION: All tours and events are Vaccination and Mask OPTIONAL, but encouraged. We do ask any guest who is not feeling well the day of the tour to not attend, and we will refund your ticket, and/or make every effort to add you to a future tour. It is our intention to provide the safest environment for all guests, and we thank you for your cooperation. Protocols subject to any change from the Illinois Department of Health and the Illinois Governor's Office.
---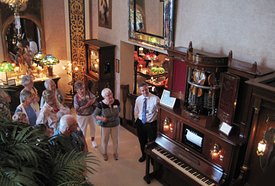 Introductory Tour - June 3, June 13, June 14, June 27, July 5 and July 8, 2023
We get many requests for individual tickets for one of our 3-hour Docent-Guided Tours of the Collection. This tour includes 2 hours in the Sanfilippo Residence and one hour in the Carousel Pavilion with the Foundation Director as your tour guide.
Cost is $30 per guest. Limited tickets available; first come, first served. Tickets only available through The Sanfilippo Foundation Website. Come hear the story of the family and Collection, demonstrations of a variety of music machines, a mini-concert on the Mighty Wurlitzer and a the history of the items in the Carousel Pavilion. There's a reason many folks have taken this tour more than a few times! It's educational and highly entertaining.
After purchase, you will receive a confirmation email from Paypal, our credit card processor, as your receipt. We will send you a second email within a day with your ticket(s) and details to attend. We highly encourage carpooling if attending with family and friends.
Purchase your tickets today:
6/3/23 at 9:00 am:
SOLD OUT
6/13/23 at 1:30 pm:

6/14/23 at 9:30 am:

6/27/23 at 1:30 pm:

7/5/23 at 1:30 pm:

7/8/23 at 9:00 am:

---
June 24 - Three Under 37 - Organists Zach Frame, Nathan Avakian, & Nicholas Renkosik.
UPDATE: We are saddened to report that Organist Nicholas Renkosik has sustained a severe knee injury and regrettably will be unable to perform at this upcoming concert. We wish Nick the best in his surgery and recovery. As they say, The Show Must Go On, so Nathan Avakian and Zach Frame will perform. They assure me the style and spirit of THREE UNDER 37 that these gentleman have cultivated over 4 years, will be very much present in their duo performance. So count on first rate organ, piano and drums, as well as solo organ pieces.
This dynamic trio of Artists (all under 37 years old), will once again rock the Big House with creative arrangements, playing solo and together (Organ, Piano, Drums).
Following up on their runaway successes in our 2021 Virtual Halloween Concert and their 2019 Concert at Sanfilippo, you can count on surprises being a big part of the evening. Come experience this wonderful mix of talent performing their unique styles and coming together to elevate your experience with the theater organ! The Carousel Pavilion will be open after the concert. 6:30 pm touring, 8 pm concert.
Tickets are $45 each.
Purchase your tickets today:
---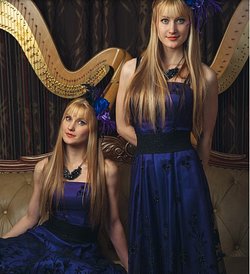 July 15 - Harp Twins
Camille and Kennerly Kitt, better known as The Harp Twins, return to the Sanfilippo Stage with their unique arrangements of modern music and original selections on harps, in a fun and funny performance. From their first video recording of Stairway to Heaven at Sanfilippo 12 year ago, and subsequent 9 videos at the Estate, this dynamic duo has engaged a worldwide audience.
6:00 pm Touring, 7 pm - 8:30 pm Concert, 8:30 - 10 pm Meet & Greet in the Carousel Pavilion.
Tickets are $35 each. This specially priced concert is also a charity event for our local Cuba Township Food Pantry, and guests are encouraged to bring a non-perishable item for the food panty.
Purchase your tickets today:
---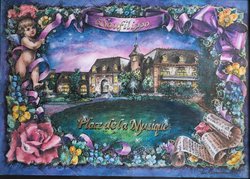 July 22 - The Magic Mansion, a family concert with Zach Frame.
A family-friendly Wurlitzer concert for parents, grandparents, and the kids. Come view the main level of the collection (up to 60 minutes of touring) and then hear songs from your favorite kid-friendly movies and musicals on the organ.
Zach Frame will "Let it Go" on the Wurlitzer, with selections your kids will know well. Come dressed as your favorite princess, prince, super-hero or cartoon character. After the concert, guests can visit to the Carousel pavilion for a ride on the Carousel, followed by Hot Dogs, Chicken Fingers, Chips and Soda. Family friendly pricing for this event. 1 pm - 4:30 pm.
Tickets are $30 for adults, $15 for children under 17.
Purchase your tickets today:
| | |
| --- | --- |
| 7/22/23 - Adult: | 7/22/23 - Child: |
---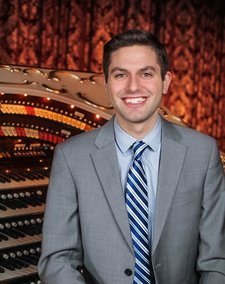 August 19 - Music of the Movies, with Mark Herman.
2012 American Theater Organist of the Year, Mark Herman, makes his full concert debut at Sanfilippo and brings you the great music from the movies, including composers John Williams, Gershwin, and other, moving movie favorites
An accomplished organist, in 2019, Mark was honored to be featured alongside the Los Angeles Philharmonic for a rare organ solo cameo. Performing on national and international, stages, Mark's arrangements have been heard on Television and in the Movies. Join us for touring, a movie-tastic concert and a visit to ride on the Carousel. 6:30 pm touring, 8 pm concert.
Tickets are $45 each.
Purchase your tickets today:
---
UPCOMING CHARITY EVENTS:
By attending these events, you can explore the collection and support these fine, local charities.
June 10 & 11 - Under the Big Top, Barrington Dance Ensemble. Click here for more information and tickets. Under the Big Top is colorful, circus themed dance performance with the Eden Palais Carousel facade as the backdrop. Come delight in the young dancers bringing all the magic of the circus to Barrington.
---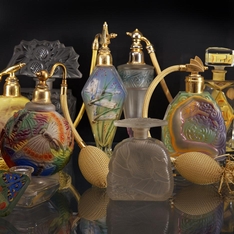 Various Dates - Guided tour of the new Perfume Passage at the Sanfilippo Estate
The Perfume Passage Foundation mission: Preserving the history, beauty, and artistry of perfume bottles, compacts, ephemera and related vanity items, the Perfume Passage Foundation seeks to educate and inspire visitors by illuminating the connection between perfume and the human experience.
Come visit the unique window displays and travel through time and history with our intimate, docent-guided tour through the world of perfume bottles, vanity items, ephemera and much more.
For information and tour tickets for all four galleries, please visit Perfume Passage Foundation
---
Return to this web page often for an update of our events open to the public. You can also join our E-Newsletter List (below) and be among the first to receive notice of all our events, and how to obtain tickets.
---
Visiting the Sanfilippo Estate
The Sanfilippo Estate is a private residence not open to the general public except through pre-arranged charity events and pre-arranged group tours of 40 or more guests, and a limited number of corporate events. Interested groups may contact the Foundation Director by email: director@sanfilippofoundation.org for more information. We do not offer the Estate for weddings, wedding related activities, nor children's parties.
Special Events (concerts, gala fundraisers) can be arranged for Charity Organizations and Corporate Groups. Email the Sanfilippo Foundation Director: director@sanfilippofoundation.org. Please include a contact phone number.
Tour Groups: 3-Hour, Docent-Guided Tours of the Sanfilippo Collection are available for groups of 40 or more. Send an email to: info@sanfilippofoundation.org. Please include the name of your group and a contact phone number.
Individuals looking to visit the Estate are encouraged to find a group (such as your local libraries, park districts, senior centers, etc.) who can put together the required minimum for one of our 3-hour Docent-Guided Tours and then have the organization contact the Foundation Director; or you can visit one of the websites of the charities holding events at the Estate (links provided) and obtain tickets to an event listed; or you can attend a Sanfilippo Foundation event -- all are updated regularly on this website. We also encourage individuals to sign up for our E-Newsletter. On occasion, we offer individual tickets to a guided tour to our E-Newsletter subscribers. Our preference for initial contact is by email.
Join our mailing list:
Please be assured that we never sell or exchange email addresses, this is for the Sanfilippo Foundation use ONLY.