Upcoming Events at The Sanfilippo Foundation
Events, News and Tour Opportunities
Carousel of Possible Dreams - October 6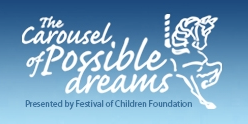 This event tugs at my heart more than most since all proceeds go directly to helping children. In partnership with the Festival of Children Foundation, Costa Mesa, California, we bring you our 6th annual Carousel of Possible Dreams.

Here's your chance to ride the Carousel to your heart's content, while assisting organizations that serve children. This event is perfect for Corporate and Business entities, and dedicated individuals, as it's a short, but intense evening of enjoying the Collections, dinner, and carousel rides. You could even win a private cocktail party at the Estate for yourself and 49 friends! There are no auctions to sit through; just the joy of service and stewardship to the kids.

The Sanfilippo Foundation and Festival of Children Foundation have seen to it that every dollar donated goes directly to assisting our five participating children charities: Barrington Children's Charities, Chicago Academy for the Arts, Soul Harbour Ranch Animal Therapy Program, Spirito! Singers, and Turning Pointe Autism Foundation. There are online fund raising pages you or your company can participate in, or by attending the event.

All of the information can be found by clicking this link. You can help by donating to one of the online funders' pages, build your own page, or join us at the event. Corporate interest is as easy as calling me directly: Gregory Leifel 847-691-7425. It's all for the kids. We've raised over a million dollars with this event over the 5 years, and are off to a good start with this year's event





Three Hour, Docent-Guided Tours - Oct. 9 & Oct. 17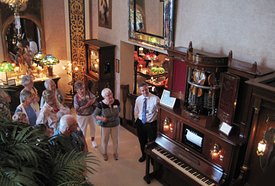 We get many requests for individual tickets for one of our 3-hour Docent-Guided Tours of the Collection. This tour includes two hours in the Sanfilippo Residence and one hour in the carousel pavilion with the Foundation Director as your tour guide. So, as a thank you for subscribing to our E-Newsletter, we are offering the following opportunity to purchase an individual ticket to a guided tour:
Oct. 9 - Tuesday - 1:30 pm
Oct. 17 - Wednesday - 1:30 pm
Cost is $25 per guest. Limited tickets to each tour; first come, first served. Tickets only available through the Sanfilippo Foundation website - Docent-Guided Tour tickets. Come hear the story of the family and Collection, demonstrations of a variety of music machines, a mini-concert on the Mighty Wurlitzer and a the history of the items in the carousel pavilion. There's a reason many folks have taken this tour more than a few times! It's educational and highly entertaining.
| | |
| --- | --- |
| Tuesday 10/9/18: | Wednesday 10/17/18: |
October 27, 2018 - The Sanfilippo Foundation's Silent Film & Vampire's Kiss Gala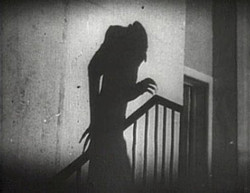 This is our 10th anniversary of the Foundation Gala, and we are pulling out all the (organ) stops.
We begin the evening with an hour of touring the Collection in the house and admiring the effort guests put into their fun/scary costumes. Then we'll assemble in the theater and experience one of the greatest B&W Silent films ever made, the 1922 version of Nosferatu: a Symphony of Horror, staring Max Shreck. Our master organist, Jelani Eddington has prepared an original, brilliant soundtrack with sound effects to send chills down your spine. This isn't a movie. This is an experience.
Afterwards, enjoy dinner and dancing in the Carousel Pavilion
For more information and to purchase tickets, visit the Halloween Gala page.
---
Save The Dates:
Dec. 7, 8, & 9 - Foundation Christmas Concerts (Tickets will go on sale in October)
Return to this web page often for an update of our events open to the public. You can also join our E-Newsletter List (below) and be among the first to receive notice of all our events, and how to obtain tickets.
---
Visiting the Sanfilippo Estate
The Sanfilippo Estate is a private residence not open to the general public except through pre-arranged charity events and pre-arranged group tours of 40 or more guests, and a limited number of corporate events. Interested groups may contact the Foundation Director by email: director@sanfilippofoundation.org for more information. We do not offer the Estate for weddings, wedding related activities, nor children's parties.
Special Events (concerts, gala fundraisers) can be arranged for Charity Organizations and Corporate Groups. Email the Sanfilippo Foundation Director: director@sanfilippofoundation.org. Please include a contact phone number.
Tour Groups: 3-Hour, Docent-Guided Tours of the Sanfilippo Collection are available for groups of 40 or more. Send an email to: info@sanfilippofoundation.org. Please include the name of your group and a contact phone number.
Individuals looking to visit the Estate are encouraged to find a group (such as your local libraries, park districts, senior centers, etc.) who can put together the required minimum for one of our 3-hour Docent-Guided Tours and then have the organization contact the Foundation Director; or you can visit one of the websites of the charities holding events at the Estate (links provided) and obtain tickets to an event listed; or you can attend a Sanfilippo Foundation event -- all are updated regularly on this website. We also encourage individuals to sign up for our E-Newsletter. On occasion, we offer individual tickets to a guided tour to our E-Newsletter subscribers. Our preference for initial contact is by email.
Join our mailing list:
Please be assured that we never sell or exchange email addresses, this is for the Sanfilippo Foundation use ONLY.