Upcoming Events at The Sanfilippo Foundation
Events, News and Tour Opportunities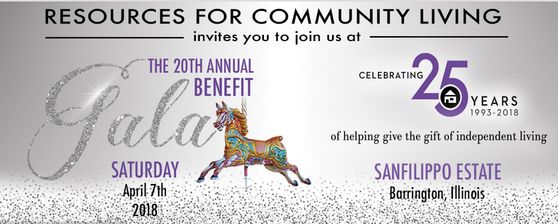 April 7th - Resources for Community Living, 25th Anniversary Benefit Gala
Proceeds benefit Special Needs Adults. This Gala includes touring of the Sanfilippo home, live and silent Auction, raffles, games, and dinner in the Carousel Pavilion, including a ride on the Eden Plais Carousel. Event Starts 5:30 pm.
For tickets and more information: www.rescoliv.org/gala/
---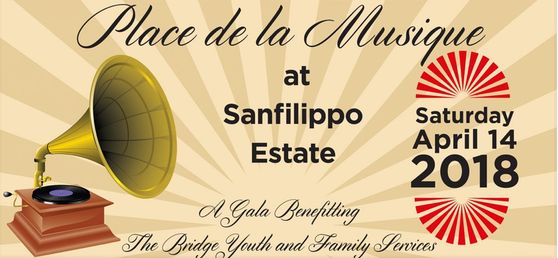 April 14th - The Bridge Youth & Family Services Spring Gala
Come celebrate with touring of the Sanfilippo Estate, live and silent auction, raffle, and dinner in the Carousel Pavilion. Includes a ride on the Eden Palais Carousel. 5:00 pm start time.
For tickets and more information: www.bridgeyouth.org/events/gala/
---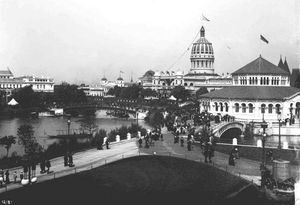 April 15th - BURNHAM'S DREAM: The White City
One hundred and twenty-five years ago the Columbian Exposition, the greatest World's Fair, was held in Chicago. A new musical, Burnham's Dream, explores the ambition and leadership of Chicago businessmen who won the right to host the Fair and built it. Daniel H. Burnham, with John Root, were chosen to be the Chief of Design and Construction of the Fairgrounds and its' major exhibit halls.
The city faced issues of equality and opportunity for immigrant workers, women, and African-Americans. Chicago writer June Finfer and composer Elizabeth Doyle have musicalized this exciting journey with songs such as Margaret Burnham's warning, "Never Marry an Architect," and John Root's explanation to the Fair Committee "We are a Team."
Come join us for the preview of this new musical, Burnham's Dream, and tour the Sanfilippo Estate. (Full Musical debuts at Theater Wit, in Chicago, in June). This preview event includes up to 90-minutes of touring the Collection in the residence, history of the 1893 World's Fair, a 30-minute preview of the musical, a Wurlitzer Theater Organ demonstration, and a visit to the carousel pavilion for a ride on the 1890 Eden Palais Carousel. Seating is limited. 1:00 pm start time.
Buy your Burnham's Dream tickets today:
---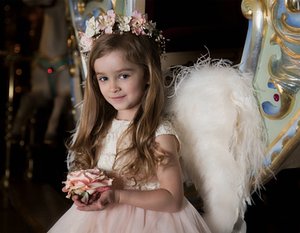 April 16th - 19th - Beautiful Things With Wings
April Graves of Light Drawn Studios will be photographing children for the upcoming 2019 Beautiful Things with Wings Calendar. This is a rare opportunity to have your child photographed on the 1890 Eden Palais Carousel as an Angel. Wings, halos and dresses will be provided.
Proceeds from the sales of these calendars go to WINGS (Women in Need Growing Stronger), a local nonprofit that provides shelter and services for women and children who are victims of domestic violence.
Portrait sessions are April 16 - 18, by appointment only. Please call Light Drawn Studios for more information and an appointment at 224-655-7801.
You can also learn more about how you can help WINGS by visiting www.wingsprogram.com
---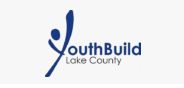 April 21st - YouthBuild Lake Country: 13th Annual Spring Benefit "Instruments of Change"
Come out and support YouthBuild. Tour the Sanfilippo home Collections, with auctions, raffle, dinner and more in the Carousel Pavilion, including a ride on the Eden Palais Carousel. Proceeds benefit YouthBuild Lake Country which provides opportunities for secondary education completion, career pathways training, guidance, curriculum and training resources, and more for young adults. Be part of the solution by joining us. 5 pm start.
For tickets and more information: www.youthbuildlakecounty.org/news-calendar/spring-benefit-2018-instruments-of-change/
---

April 28th - Ann Kiley Center Tour and Wurlitzer Concert
Come tour the Sanfilippo Estate, take a chance in the raffle, hear a concert on the 8,000 pipe Wurlitzer Theater Organ, with Organist Nicholas Renkosik, tour the pipe chambers, and round out the afternoon with a visit to the Carousel Pavilion, including a ride on the 180 Eden Palais Carousel. Proceeds benefit residents of the Ann Kiley Center in Waukegan, Illinois. Visit thier website at friendsofkileycenter.weebly.com/events.html for more information.
For tickets and more information, contact Mary Jo Krupkowski at 630-901-8688, or email: heymj319@aol.com. Tickets are $50 each. Touring begins at 1:00 pm, with the concert at 2:30 pm.
---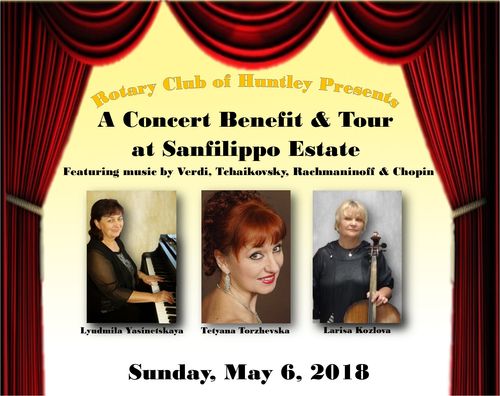 May 6th - Rotary Club of Huntley: End Polio: A Benefit Concert and Tour
Featuring Soprano Tetyana Torzhevska, with Lyudmila Yasinetskaya on Piano and Larissa Kozlova on Cello.
Tour the Sanfilippo Collection, enjoy a wonderful operatic concert, Wurlitzer Organ demonstration, and visit the Carousel Pavilion for a ride on the 1890 Eden Palais Carousel. Proceeds benefit Rotary International's End Polio Campaign. Tickets $50.00. Touring begins at 1 pm with the concert at 2:30 pm.
Buy your Rotary Club Fundraiser tickets today:
---
May 19 - Sanfilippo Armed Forces Day Wurlitzer Concert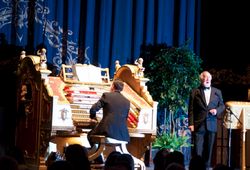 Our Annual Armed Forces Day Concert features Organist Dave Wickerham on the Mighty Wurlitzer. Join us in celebration of the men and women who have, and continue to, serve our country.
Mr. Wickerham plays patriotic, moving selections, expressed as only an 80-rank, 5-manual Wurlitzer Theater Organ can, with special guest, Bass-Baritone William Powers. This event includes up to 90-minutes of touring the Sanfilippo Collection, a 90-minute concert, and a visit to the Carousel Pavilion for a ride on the Eden Palais.
House touring begins at 1:00, the concert will start at 2:30 pm. Special pricing of only $35 per ticket. This concert always sells out quickly, so order early.
Buy your Armed Forces Day tickets today:
---
SAVE THE DATES:
June 2 - Midwest Mozart Festival Fund Raiser
June 15 & 16 - Barrington Dance Ensemble's Under the Big Top Ballet,in the Carousel Pavilion
June 16, July 21, August 18, September 15 - Summer Concert Series, tickets go on sale 4/3/18 (see lineup below)
June 24 - Illinois Railway Museum Concert (Steam Department), with Dave Calendine on the Wurlitzer
2018 Summer Concert Lineup: (Tickets Available on 4/3/18)
Series and Individual tickets for these concerts go on sale on April 3 on the Foundation website. Touring of the Collection begins at 6:30 pm, with the 90-minute concerts starting at 8 pm. We'll open the Carousel Pavilion for 45 minutes after each concert (and give you a carousel ride, too). Tickets are $50 each. Buy early, as these often sell out.
June 16 - Silver Screen Gold, with singer Peter Oprisko, and a quartet of musicians. The glamorous, untold backstory of Hollywood's most beloved Academy Award-winning songs as revealed by the singer who interviewed their legendary composers including Henry Mancini, Sammy Cahn, and Johnny Mandel. This musical/narrative presentation will delight your sense of history and enthrall you with Peter's deep interpretations of classic, award-winning best-loved songs. "Oprisko is the Rolls Royce of singers today! He's got it! He's a great talent! " - Ramsey Lewis Grammy-winning Jazz Pianist.
July 21 - Puttin' on the Ritz: A Celebration of Fred Astaire, with pianist, Frederick Hodges. This toe-tapping musical tribute to Fred Astaire features the beloved, classic songs that Astaire introduced in his famous hit Broadway and Hollywood musicals. Written by America's best composers such as George Gershwin, Cole Porter, Iriving Berlin, and Jerome Kern, the show will include Astiare favorites such as Cheek to Cheek, Night and Day, Top Hat, fascinating Rhythm, Let's Call the Whole Thing Off, and A Fine Romance, all performed in Frederick Hodges' tuneful, vibrant, and virtuosic piano style. Join us for one of the best concert pianist in the World.
August 18 - A Tribute to the Music of Leroy Anderson, with Organist Jelani Eddington on the Mighty Wurlitzer. From Blue Tango, to music from Gone with the Wind, American composer Leroy Anderson is an icon of light orchestral songs, many introduced by the Boston Pops under the direction of Arthur Fiedler. In the hands (and feet) of Master Organist Jelani Eddington, it will be an evening of recognizable masterpieces, showing off the capabilities of orchestral sounds on the Mighty Sanfilippo Wurlitzer.
September 15 - The Bourne Family - This Southside Chicago family of nine (mom and her eight children) wowed our audiences at last year's Christmas Concerts as our special guests. We've brought them back for a full concert of acapella excellence (with occasional accompaniment). Their style is so unique, we find it difficult to capture, other than to say it combines gospel, folk, inspirational, and more, with creative harmonies, solos, and spectacular range. Their story is compelling; their style creative; and you'll fall in love with their music as our previous audiences did. This will be the Bourne' family's CD release concert, and we couldn't be prouder to host them. Come hear the joy of pure family love and harmonic voices.
---
Return to this web page often for an update of our events open to the public. You can also join our E-Newsletter List (below) and be among the first to receive notice of all our events, and how to obtain tickets.
---
Visiting the Sanfilippo Estate
The Sanfilippo Estate is a private residence not open to the general public except through pre-arranged charity events and pre-arranged group tours of 40 or more guests, and a limited number of corporate events. Interested groups may contact the Foundation Director by email: director@sanfilippofoundation.org for more information. We do not offer the Estate for weddings, wedding related activities, nor children's parties.
Special Events (concerts, gala fundraisers) can be arranged for Charity Organizations and Corporate Groups. Email the Sanfilippo Foundation Director: director@sanfilippofoundation.org. Please include a contact phone number.
Tour Groups: 3-Hour, Docent-Guided Tours of the Sanfilippo Collection are available for groups of 40 or more. Send an email to: info@sanfilippofoundation.org. Please include the name of your group and a contact phone number.
Individuals looking to visit the Estate are encouraged to find a group (such as your local libraries, park districts, senior centers, etc.) who can put together the required minimum for one of our 3-hour Docent-Guided Tours and then have the organization contact the Foundation Director; or you can visit one of the websites of the charities holding events at the Estate (links provided) and obtain tickets to an event listed; or you can attend a Sanfilippo Foundation event -- all are updated regularly on this website. We also encourage individuals to sign up for our E-Newsletter. On occasion, we offer individual tickets to a guided tour to our E-Newsletter subscribers. Our preference for initial contact is by email.
Join our mailing list:
Please be assured that we never sell or exchange email addresses, this is for the Sanfilippo Foundation use ONLY.