Upcoming Events at The Sanfilippo Foundation
Events, News and Tour Opportunities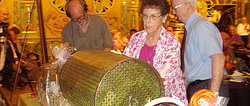 August 2 - Interfaith Committee For Detained Immigrants presents An Afternoon at Sanfilippo
This event includes time to tour the Sanfilippo Collection in the Residence, a concert on the Mighty Sanfilippo Wurlitzer by Jelani Eddington, followed by a reception with refreshments in the Carousel Pavilion. Includes a raffle for a weekend at the Aqua Lakeshore East, complete with dinner and concert tickets, and other raffle items. Tickets are $65 each. For more information and to purchase tickets, visit www.icdichicago.org or call 773-779-6011 ext. 3846.
---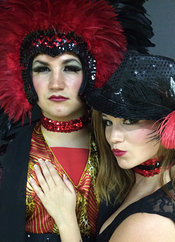 August 9 - Barrington Community Theatre - under the Direction of Nancie Tobison and Ellen Werksman present:
"An Evening at the Mansion" featuring "Albine and the Cagelles" and highlights from the musical "Chicago" at the prestigious Sanfilippo Estate.
The evening will begin for our audience members at 7 pm with an informal tour of the Mansion followed by the 8 pm performance of "Albine and the Cagelles" which is inspired by the French play La Cage aux Folles. After our presentation of "Albine and the Cagelles", there will be a brief 15 minute intermission whereupon guests may mingle and admire the mansion one more time before we begin our highlight presentation of the musical "Chicago".
Barrington Community Theatre is proud to bring Musical Theatre back to the forefront for the area residents, creating an accessible venue for patrons to enjoy an evening of Musical Theatre while supporting local talent.
For more information and to purchase tickets, visit the Barrington Community Theatre page.
---

August 10 - Woodstock Mozart Festival - In Partnership With The Sanfilippo Foundation
Visit the Festival Page for more information and tickets.
Additional July and August Dates (at other locations) available at www.mozartfest.org.
---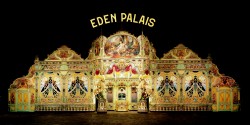 August 23 - Carousel of Possible Dreams
Welcome to The Carousel of Possible Dreams at the Sanfilippo Estate in Barrington Hills. On August 23rd, civic, business and philanthropic leaders will rush aboard the Eden Palais Carousel and go round and round and up and down for two outstanding charities. That's when the fun begins. Using nothing more than their cell phones, each rider is tasked with a fundraising goal before being allowed off the carousel. How long it takes is up to the riders!
For more information on how you can get involved, visit the Carousel of Possible Dreams Website

---
SAVE THE DATES
***5th Annual Sanfilippo Foundation Summer Concerts; June 21, July 19, August 16, & September 20, 2014
For more details and to purchase tickets, visit the Summer Concert Page.
***2014 Christmas Concerts - Dec. 5, 6, & 7, 2014
---
Return to this webpage for an update of our 2014 Summer and Fall events open to the public. You can also join our E-Newsletter List (below) and be among the first to receive notice of all our events, and how to obtain tickets.
---
Visiting the Sanfilippo Estate
The Sanfilippo Estate is a private residence not open to the general public except through pre-arranged charity events and pre-arranged group tours of 40 or more guests, and a limited number of corporate events. Interested groups may contact the Foundation Director by email: director@sanfilippofoundation.org for more information. We do not offer the Estate for weddings, wedding related activities, nor children's parties.
Special Events (concerts, gala fundraisers) can be arranged for Charity Organizations and Corporate Groups. Email the Sanfilippo Foundation Director: director@sanfilippofoundation.org. Please include a contact phone number.
Tour Groups: 3-Hour, Docent-Guided Tours of the Sanfilippo Collection are available for groups of 40 or more. Send an email to: info@sanfilippofoundation.org. Please include the name of your group and a contact phone number.
Individuals looking to visit the Estate are encouraged to find a group (such as your local libraries, park districts, senior centers, etc.) who can put together the required minimum for one of our 3-hour Docent-Guided Tours and then have the organization contact the Foundation Director; or you can visit one of the websites of the charities holding events at the Estate (links provided) and obtain tickets to an event listed; or you can attend a Sanfilippo Foundation event -- all are updated regularly on this website. We also encourage individuals to sign up for our E-Newsletter. On occasion, we offer individual tickets to a guided tour to our E-Newsletter subscribers. Our preference for initial contact is by email.
Join our mailing list:
Please be assured that we never sell or exchange email addresses, this is for the Sanfilippo Foundation use ONLY.