The Sanfilippo Foundation History
Featured on WTTW - Learn About our Efforts to Preserve Chicago History
Feature Article on the Sanfilippo Foundation - Quintessential Barrington Magazine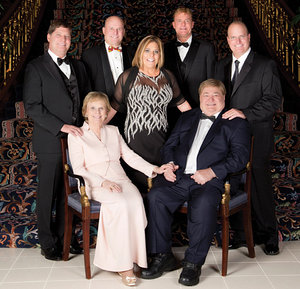 The Sanfilippo Family and Foundation were featured in the January/February 2016 issue of Quintessential Barrington Magazine. Simply click this Quintessential Barrington Link to download the article and discover more about the work we do for local charities.
We thank QB Editor and Founder, Lisa Stamos, for allowing us to share the Family & Foundation story in her groundbreaking magazine, particularly in the Philanthropy Issue, which is most fitting. We felt it was time to share a bit of the family's philanthropic work which, many of you may not know, began back in 1985, and has grown to astounding proportions.
This article is a tribute to you, our supporters and partner charities, who have helped the Foundation attain such far and encompassing reach. Whether you take a tour, come to a charity event or Foundation event, or sponsor us, it all supports our charity work in making the community better.
Historical Perspective on The Sanfilippo Collection
Before there were jukeboxes and radios there were nickelodeons and orchestrions, ingenious mechanical music machines that played the music of the day to entertain the public. Whether in restaurants, bars, hotels, skating rinks, dance halls, or fairgrounds, these commercial, automated machines attracted crowds with their elaborate, artistic facades and their ability to replicate sounds from a small group of musicians up to a full orchestra, all with mechanically controlled mechanisms. The Sanfilippo Collection has on display the largest variety of these restored instruments in the world. Each one of these devices is, in one sense, a form of time-machine. When you listen to a musical selection played on one of these automatic marvels you are hearing exactly what the people heard and experienced when it was new, whether it was 1890, 1910, or 1930.
Housing the collection, the Sanfilippo "Place de La Musique" recreates the Victorian era of the first movie palaces, with architectural details and coordinating, antique amenities, as well as serving the acoustical purpose of hearing some of the larger machines such as a fairground organ or a theater pipe organ, in an appropriate setting. The Music Theater can seat 350 and houses the largest theatre pipe organ ever built. At 80 ranks it is nearly a third larger than the organ at Radio City Music Hall in New York City. The overall experience is an auditory and visual immersion in one or the most exciting eras.
To further showcase aspects of this inventive era, we've restored working steam engines, bi-polar generators, over-head line shafts, and machines that played a critical role in this evolution. The engines are dated from 1820 up through the 1920s including a recently restored and reassembled complete power plant from an East Chelmsford, MA factory consisting of the slate switchboard, Corliss steam engine, shaft-coupled AC generator, DC exciter generator, overhead crane, and steam condenser. There are eight operating steam engines in the lower level of the main house and over twenty in the Carousel Building, including the one that originally operated the 1890 French Salon Carousel. All of this equipment is on display and much of it can be operated to show how it functioned when it was new.
Additionally, there is an 1881 Grant Steam Locomotive with restored caboose and 1890's Pullman passenger car. There are six vintage street clocks around the estate and a newly restored tower clock in the carousel building with its own 33' ornate tower, as well as other examples of tower clock mechanisms.
The jewel of The Sanfilippo Collection is the Eden Palais, built in 1890, the most complete example of a European Salon Carousel in existence. With a carved and lit-up facade that measures 89' wide by 42' tall it was undoubtedly one of the first places its patrons experienced electric lighting. A fifteen-year restoration effort has brought this majestic Carousel back to its glory. Thirty-six horses, several gondolas and chariots, and a spinning lover's tub all turn to the sounds of a Gavioli Band Organ.
We invite you to attend a concert or charity event for a chance to experience the Sanfilippo Collection. Most events provide time to explore the Collection and Docents are always on hand to demonstrate many of the music machines, including opening them up to show the mechanical features.
Join our mailing list:
Please be assured that we never sell or exchange email addresses, this is for the Sanfilippo Foundation use ONLY.