Past Sanfilippo Foundation Summer Concert Performers
Summer 2019:
The Other 3 Tenors - Around the World in 80-minutes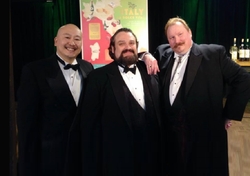 You've undoubtedly heard of the Three Tenors. Well, these are The Other 3 Tenors. Slightly irreverent, perhaps a bit bawdy, and full of hijinks, this isn't your mother's opera. It's a fun, romp of an evening with 3 talented gentleman with room-shaking voices. We laughed, groaned, and thoroughly enjoyed ourselves. Combining theater shaking voices with side splitting humor, this trio creates a program like no other.
With their combined experience on the opera stage and concert platform as well as radio and television, this talented triumvirate takes you on a veritable musical tour of the world, with everything from operatic arias and musical theater standards to Korean folksongs, Viennese waltzes, French cabaret favorites, Spanish melodies, Irish ballads and Neapolitan love songs, with a Yiddish lullaby thrown in for good measure!
Host Warren Moulton and fellow tenors Franco Martorana and Simon Kyung Lee raise the rafters with beautiful harmonies and uproarious laughter. The Other 3 Tenors...an unforgettable evening of high notes and hijinks!
---
Three Under Thirty-Three: On a Wurlitzer.
Organists Nathan Avakian (NY), Zak Frame (WI), and Nicholas Renkosik (IL) share not only the Sanfilippo Wurlitzer, but the stage for this exhilarating concert of highly-talented gentlemen organists, all under 33 years of age.
With a combination of solos (organ), duos (piano & organ) and trios (organ, piano & drums), the evening promises the spectacular. We gave these guys free-reign in designing an eclectic, fun, and modern program for the Wurlitzer. Featuring Queen's "Bohemian Rhapsody", Bruno Mars' "Uptown Funk" and more had the Sanfilippo Wurlitzer salivating.
It was a fun night. Don't let their youth fool you; these are serious organists who surprise and thrill you with their exceptional talent.

---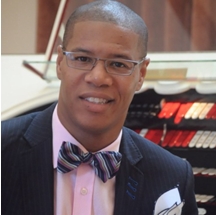 Jazz Plus - With Organist Tedde Gibson
Making his debut performance at Sanfilippo, organist Tedde Gibson explored the wide diaspora of music with the Sanfilippo Wurlitzer.
Uniquely talented, Mr. Gibson brought an exploration of the versatility of the Sanfilippo Wurlitzer with Jazz favorites, sacred Gospel favorites, and more.
One of the most innovative, improvisational organists and recording artists today, Mr. Gibson surprised and delighted us with his command and creativity.
---
Summer 2018: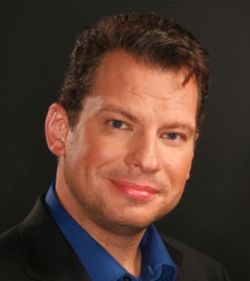 Silver Screen Gold, with Singer Peter Oprisko, and a Quartet of Musicians.
The glamorous, untold backstory of Hollywood's most beloved Academy Award-winning songs as revealed by the singer who interviewed their legendary composers including Henry Mancini, Sammy Cahn, and Johnny Mandel.
This musical/narrative presentation delighted our sense of history and enthralled us with Peter's deep interpretations of classic, award-winning best-loved songs. "Oprisko is the Rolls Royce of singers today! He's got it! He's a great talent!" - Ramsey Lewis Grammy-winning Jazz Pianist.
Puttin' on the Ritz: A Celebration of Fred Astaire, with Pianist Frederick Hodges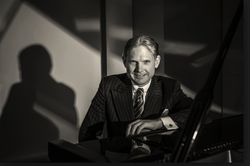 This toe-tapping musical tribute to Fred Astaire featured the beloved, classic songs that Astaire introduced in his famous hit Broadway and Hollywood musicals.
Written by America's best composers such as George Gershwin, Cole Porter, Iriving Berlin, and Jerome Kern, the show included Astiare favorites such as Cheek to Cheek, Night and Day, Top Hat, fascinating Rhythm, Let's Call the Whole Thing Off, and A Fine Romance, all performed in Frederick Hodges' tuneful, vibrant, and virtuosic piano style. We enjoyed one of the best concert pianist in the World.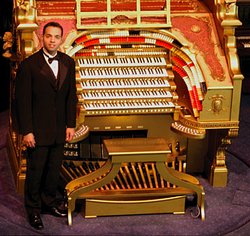 A Tribute to the Music of Leroy Anderson, with Organist Jelani Eddington on the Mighty Wurlitzer.
From Blue Tango, to music from Gone with the Wind, American composer Leroy Anderson is an icon of light orchestral songs, many introduced by the Boston Pops under the direction of Arthur Fiedler. In the hands (and feet) of Master Organist Jelani Eddington, it was be an evening of recognizable masterpieces, showing off the capabilities of orchestral sounds on the Mighty Sanfilippo Wurlitzer.
The Bourne Family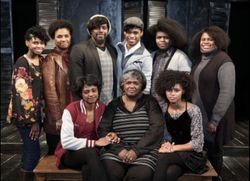 This Southside Chicago family of nine (mom and her eight children) wowed our audiences at last year's Christmas Concerts as our special guests. We brought them back for a full concert of acapella excellence (with occasional accompaniment).
Their style is so unique, we find it difficult to capture, other than to say it combines gospel, folk, inspirational, and more, with creative harmonies, solos, and spectacular range. Their story is compelling; their style creative; and you'll fall in love with their music as all audiences did. This was the Bourne' family's CD release concert, and we couldn't be prouder to host them.
Summer 2017: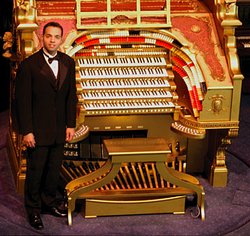 The Sounds of Broadway: Organist Jelani Eddington on the Mighty Sanfilippo Wurlitzer.
A master organist played Broadway Musical favorites and more.
Jelani brought musical theater selections to life utilizing the raw and intimate power of the Wurlitzer. One of the top organists in the World, Mr. Eddington took us on a nostalgic journey of musical delights, and put our Wurlitzer through its paces.
He's Playing our Song: Great music from the stage and Screen, with Pianist Richard Glazier
Master Pianist Richard Glazier played the 1927 Sanfilippo Knabe Concert Grand and narrated the stories behind some of the greatest music from stage and screen, including a video presentation. Richard studied with Ira Gershwin when he was a child, and will shared experiences.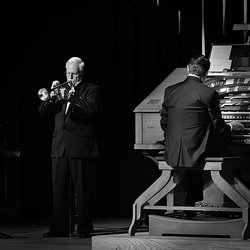 Hot August Night, with Organist Ken Double on the Mighty Wurlitzer, and Skip Stine on Trumpet
We enjoyed a sultry night of sentimental favorites saluting Harry James, Bobby Hackett, and more.
We experienced this dynamic duet of Organ and Trumpet with sultry sounds perfect for a hot August evening, in the comfort of our cool theater. With perfect acoustics, our theater allowed us to hear the subtleties and power of two great instruments in the hands (and mouth) of two phenomenal artists.
Prohibition Orchestra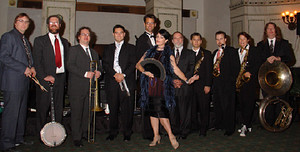 Original, Big Band music from the 20s and 30s with this 12 member orchestra including singer Andi Tauber. Come out and enjoy this favorite genre of great American classics and more.
This ten piece Orchestra recreated what it was like to live and groove in the 20s and early 30s. We dropped our Wurlitzer into the basement, covered the hole, and took you all back to some of the most iconic music in America in a note-for-note recreation of the classics..
Summer 2016: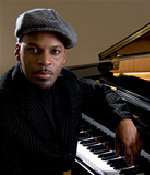 Ragtime, with Pianist Reginald Robison
This McArthur Grant "Genius" Award winning pianist and historian brought ragtime stylings old and new to the Sanfilippo stage on our 1927 Knabe Concert Grand. Mr. Robison demonstrates the various styles that made Ragtime piano the extraordinary and uniquely American genre that it was.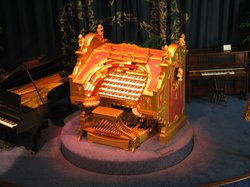 Five Live on a Wurlitzer
Five different organists showcase the Wurltizer Theater Organ, with solo, duo, and trio selections.
We heard a variety of playing styles with Jelani Eddington, Jonas Nordwall, Martin Ellis, Donna Parker, and Christian Elliot on the Mighty Sanfilippo Wurlitzer.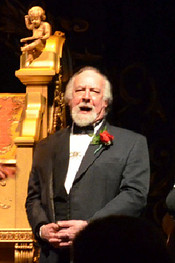 Tosca, the Opera
The Sanfilippo Foundation presented a condensed version of the Italian Opera, Tosca, with English narration making it more accessible for pleasure and enjoyment. It was an opportunity to experience a World-Class production with Sanfilippo favorites, Bass-Baritone William Powers, Baritones Paul Geiger and Aaron Wardell, along with Tenor Simon Kyung Lee. They were joined by the extraordinary Soprano, Hilda Ramos, as Tosca.
One of the most beloved operas performed World-wide in the acoustically perfect Sanfilippo Theater. Opera lovers and newbies alike attended this concert for the shear pleasure of the human voice at its best, and the dramatic story. The narrative was be performed by Foundation Director, Gregory Leifel.
Younce Guitar Duo, with special guest, Miriam Pico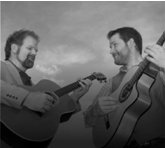 Father & Son duo, Jerry and Ryan Younce from Traverse City, Michigan brought their duo guitar stylings, heavily influenced by jazz, gypsy guitar, flamenco and other world music, including Celtic and Latin rhythms, to the Sanfilippo Stage. Joining them as special guest singer was Sanfilippo favorite, Miriam Pico (of Pico & Chown).
We experienced the joyous and invigorating variety of styles on two guitars, with the soulful, exquisite voice of Miriam Pico.
Summer 2015: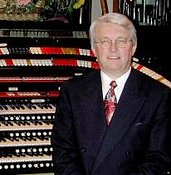 Organist Jonas Nordwall on the Mighty Sanfilippo Wurltizer
Mr. Nordwall has amazing talent to utilize just about everything on the 8,000 pipe Wurlitzer. We experienced this great Artist with the World's best theater organ, the Five Manual/80 Rank Wurlitzer.
If our theater organ console looks like a cockpit to you, Jonas Nordwall is an aerialist pilot set to take you on the thrill ride of your life, with an eclectic program showing off the organ's capabilities. Our Wurlitzer loves Jonas Nordwall, and we loved him as well.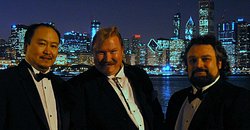 The Other Three Tenors: A fun tribute to Pavarotti
A Sanfilippo favorite, tenor Simon Kyung Lee, was joined by tenors Warren Moulton and Franco Martorana, with Gabriella Scanu on piano, for an operatic performance that is theater-shaking with side splitting humor.
Once described as "The 3 Tenors Meet the 3 Stooges", these gentleman take no prisoners in bringing an evening you won't soon forget, with exquisite operatic voices. This ain't your momma's opera, because she wouldn't allow you to have this much fun! No microphones were used, and these gentleman rattled the walls anyway. If you love the human voice, this was the place to be.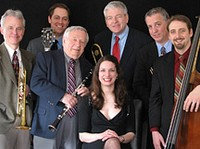 Petra's Recession Seven Band
By popular demand, we brought Petra van Nuis and the Recession Seven Band back to the Sanfilippo stage. This seven-member ensemble of Internationally known Jazz Artists specializes in Chicago-style, early swing and traditional jazz music that formed during the Depression and lifted the spirits of the country.
Petra van Nuis, on vocals, was nominated for "Best Jazz Entertainer 2013" for the 33rd Chicago Music Awards. We stepped back into the 1930's at the Sanfilippo "Place de la Musique" for an evening of unforgettable entertainment and the tender, sultry voice of one of Chicago's finest singers.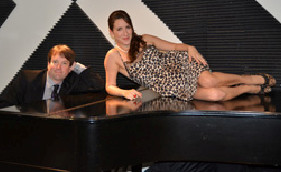 Pico & Chown
Traverse City, Michigan's Singer/Songwriter Miriam Pico and Pianist David Chown received huge heaps of praise the last time they performed with us (2013), and we knew immediately after the concert that we had to bring them back. The many follow-up calls and emails asking us to bring them back easily confirmed it.
With a voice and style the likes of an Ella Fitzgerald or Judy Garland, Miriam Pico delivers a diverse array of classic Standards and her own, contemporary songs that will tug at your heart, or have you on your feet dancing and singing along. She'll pull out her guitar and Ukelele and ramp up the program even more.
Pianist David Chown is known as the "human jukebox" on the piano, the perfect companion to Miriam's diverse repertoire, and outstanding in his own right. Mr. Chown played our 1927 Knabe Concert Grand.
Summer 2014: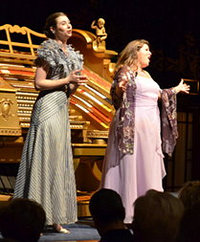 Once, Twice, Three Times the Ladies
Soprano Michelle Areyzaga & Messo Soprano Audrey Grieme, with pianist Shannon McGinnis, in an all-female performance of Opera and other delicious surprises. From playful cat-fights, to sultry love songs, to the sentimental, Ms. Areyzaga and Ms. Grieme enticed us with their siren songs, and you can't resist.
We experienced these two, exquisite operatic voices in the perfect venue, the Sanfilippo theater. This is more than an Opera recital; this is the power and grace of the female voice in a thoroughly entertaining evening.
We have a reputation of making every Operatic event we do surprise our audiences, so come see Once, Twice, Three Times the Ladies the next time around.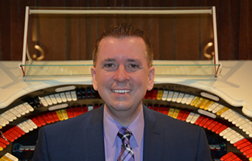 A World of Music: Walt Strony on the Sanfilippo Wurlitzer
From Gershwin to Tchaikovsky, Organist Walt Strony takes us on a World Tour - theater organ style - to the great cities, countries, and places.
A Sanfilippo favorite, Mr. Strony put our 5-manual, 80-rank Wurlitzer through its paces and demonstrated the exquisite range of the Theater Organ. An extraordinary artist you don't want to miss in the future. Consider this a Summer Vacation around the World, with a musical tour guide of unparalleled talent and enthusiasm.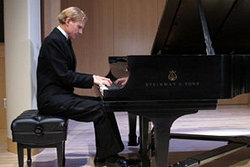 Gershwin and Friends, at the Movies
Ragtime Pianist Frederick Hodges on the 1927 Sanfilippo Knabe Concert Grande took us to the movies, with Gershwin and other, great composers in recognizable favorites. Considered one of the "finest ragtime pianists in the World", Mr. Hodges' extraordinary ability to interpret the greats left us breathless.
It's summer movie night, piano-style, with Frederick Hodges and we had a remarkable experience at the Sanfilippo Estate. We stepped back in time with this one, folks, with a fabulous pianist, and a night of movie music nostalgia and fun.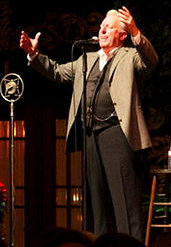 Broadway in Barrington: Robert Pilon
From Toronto, singer Mr. Robert Pilon brought us an evening of Broadway favorites, inspirational pop, and other surprises. Highlights will include selections from Phantom of the Opera and Les Miserables (where Mr. Pilon played the lead roles), The Secret Garden, The Lion King, Carousel, Tarzan, and more.
Accompanied by piano and violin, Mr. Pilon's performance took us into the heart of the Broadway Musical and personalized it for the Sanfilippo Theater. Mr. Pilon was our 2013 "special guest" performer at Christmas, and the response was so remarkable, we brought him back for a full performance.
Broadway in Barrington was a sure hit.
Summer 2013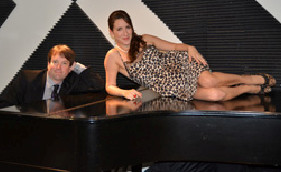 Pico & Chown
Mariam Pico is a singer/songwriter of extraordinary talent and voice, who can transport you instantly back to a 1920s nightclub, and have you grooving in your seat to her own striking modern compositions. Accompanied by classical pianist David Chown on our 1927 Knabe Concert Grand, this duo kicks off our series in exquisite style. A perfect mix of standards and contemporary music, Mariam Pico and David Chown bring it, big time, with lots of fun for our audience.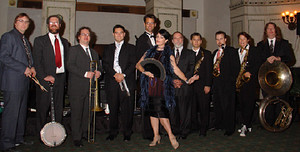 Prohibition Orchestra of Chicago
The Prohibition Orchestra of Chicago is a 10-piece band dedicated to playing the music of the early big band era. All of their arrangements were published from 1923 to 1934. It's the real authentic sound, and they are the only Chicago-area band currently playing in this style. These are the songs folks in 1924 heard at the Chicago Theater played by the pit orchestra, and now played note-for-note by the Prohibition Orchestra of Chicago in the beautiful Sanfilippo Theater. (Hey folks, if you want to dress 1920s for this one, we would welcome it!) This is authentic music played by great musicians and not just for the old-timers!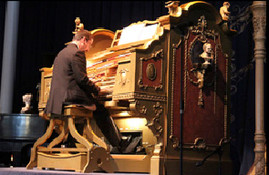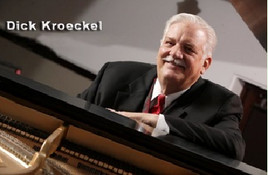 Dave Wickerham & Dick Kroeckel, Organ & Piano Duet
An evening of Ragtime and Tin Pan Alley Music with arguably one of the finest theater organists in the World, Dave Wickerham, and one of the finest ragtime pianists, Dick Kroeckel, in duets, solo pieces and, of course, the unexpected! The Sanfilippo Mighty Wurlitzer and our 1927 Knabe Concert Grand will release the creativity in these two fine gentleman and give us all a mind-blowing evening of music. It's 88-keys and 8,000 pipes in our acoustically perfect theater and you won't want to miss it. This is what the Sanfilippo theater was made for!
Summer Reign: Kings and Queens of Opera
William and Simon and two ladies of exceptional matching operatic talent, Mezzo-Soprano Audrey Grieme and Soprano Michelle Areyzaga, all join forces to bring forth the show-stopping arias, duets, and quartets from the great operas, and more. And when we say more, we mean the unexpected, too. This is serious opera not taken too seriously, with a lot of fun thrown in. "Opera's not my thing" is no excuse to miss what will be one of the most special evenings of musical talent ever assembled in the Sanfilippo theater. This is singing at its finest, all without microphones, all up close and very personal.

William Powers

Michelle Areyzaga

Simon Kyung Lee

Audrey Grieme
Summer 2012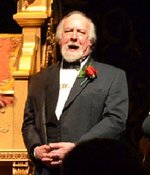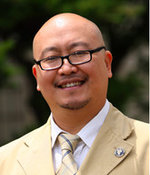 William Powers & Simon Kyung Lee
Our dueling duet of William Powers, Opera Bass-Baritone & Simon Kyung Lee, Opera Tenor in an evening of classical arias (solo and duet), as well as favorite show-tunes and lighter fare. Accompanied on piano by William Billingham, this evening promises to unleash the thunderous power of two veteran Opera stage performers, while also charming and, of course, surprising you.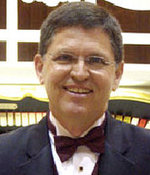 Ron Rhode on the Sanfilippo Mighty Wurlitzer
Hailing from Mesa, Arizona, but a native of Illinois, Mr. Ron Rhode is entering his 38th year of performing. With more than 20 Theater Organ recordings, Mr. Rhode is considered one of the finest organists of his generation, and a favorite at the American Theater Organ Society national and regional conventions. He's always looking forward to playing the Sanfilippo Wurlitzer in a spectacular concert that will put the Mighty Organ through its paces.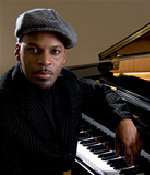 Reginald Robinson, Ragtime Pianist
An Internationally recognized pianist and composer, recording artist and lecturer, Mr. Reginald Robinson will play the Sanfilippo 1927 Knabe Concert Grand in an evening of Classic and Original Ragtime, while highlighting the history of Ragtime.
In 2004 Mr. Robinson received the John D. & Catherine T. MacArthur Foundation's rare and prestigious "Genius" award for his ragtime compositions and recordings. He was honored in 2006 by National Association of University Women as a Chicago legend and was also honored in 2010 by the ETA Creative Arts Foundation for upholding the tradition. Mr. Robinson has performed music with dancers, vocalists, symphonic orchestras such as Orbert Davis' Chicago Jazz Philharmonic and Maestro Paul Freeman's Chicago Sinfonietta, jazz ensembles such as Andrew Bird's Bowl of Fire, Fulcrum Point and the Arts Center Jazz Ensemble.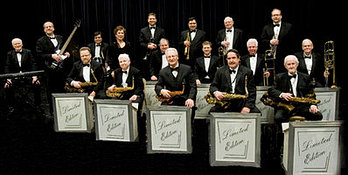 Limited Edition Big Band with Julie Caselli
The Limited Edition Big Band has been delighting audiences in the Chicago area for 20 years. With a stunning library of over 1100 charts, these musicians cover the full spectrum of big band swing, jazz, and dance music.
These 17 musicians, many of whom are session players or members of other jazz, big band or pop bands in the Chicago Metro area, are a "cream of the crop" ensemble. Julie Caselli is a talented and warm singer who'll take you back to the Golden Age with her smooth vocals. Limited Edition plays a wide range of music from the great touring bands such as Count Basie, Buddy Rich, Stan Kenton, Woody Herman, Glenn Miller, Tommy Dorsey, and Benny Goodman.
Summer 2011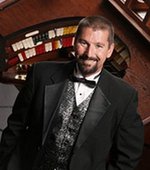 Theater Organist Dave Wickerham
Organist-in-Residence at the Milhous Museum in Boca Raton, Florida, where he commands 3 different organs, Mr. Wickerham brings his enthusiastic musicianship and vast repertoire to the Mighty Sanfilippo Wurlitzer Organ in a program called, Great Movie Music and More!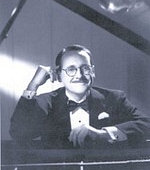 Classical and Ragtime Pianist Peter Mintun
Pianist and Historian Peter Mintun has been called, "the most gifted of all saloon pianist" and "the Vladimir Horowitz of cocktail pianists." Time Magazine said, "With his dapper dress and trim mustache, (Mr. Mintun) even looks like he could have stepped out of an F. Scott Fitzgerald novel." "Nobody knows better or plays better popular music of the 1920s, 30s, and 40s." Mr. Mintun will get on a "roll" that will surprise you, and he has an ongoing record of never being stumped by a request from this era of music.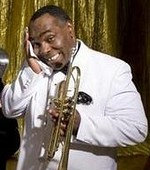 M. L. Jordan as "Louis Armstrong"
Jordan, impersonator extraordinaire, makes Louis "Satchmo" Armstrong come alive for an evening of romantic nostalgia and a living experience of one of the greatest Jazz entertainers in history. Here's your opportunity to time travel back into the 1920s & 30s nightclub scene where Louis Armstrong engaged with this audience directly, and brought his most American of music to life.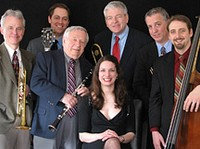 Petra's Recession Seven Band
Chicago Jazz Vocalist, Petra van Nuis, and her Recession Seven Band (trumpet, trombone, clarinet, bass, drums, guitar) perform the jazz swing music that rescued the spirits of a Nation during the Great Depression. Comprised of some of Chicago's most accomplished musicians, and lead by a voice so smooth as to totally enchant, Petra's Recession Seven Band will make us forget about our own recession, while we bop to the greatest hits of the era.
Summer 2010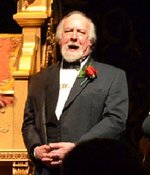 William Powers - Opera
Since making his New York City Opera debut in 1972, Chicagoan William Powers has performed over 100 operatic roles with the major opera companies in the United States, Europe, and South America. While the stylistic range of his portrayals spans the gamut from Renaissance ( Monteverdi's ORFEO for San Francisco ) to Contemporary ( Pasatieri's SEAGULL for Washington DC ), William Powers has earned an enviable reputation as a "heavy" - due in large part to the dark, penetrating color of his voice - thus the portrayal of rogues and villains has dominated his career. His teachers and mentors, George London and Norman Treigle, have also added to the intensity of the acting aspect of Powers' delivery - for which he has become well-known.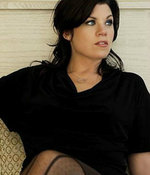 Typhanie Monique - Jazz Vocalist
Typhanie Monique has achieved international status as a rising star vocalist by immersing herself in her true passion. Versed in a wide range of genres and influences including jazz, funk, hip-hop, pop and improvised freestyle, the soulful-voiced chanteuse, bandleader and songwriter has earned a reputation as a fearless boundary-crosser and a natural born frontwoman with superb scatting chops and well-honed emcee skills.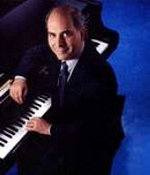 Richard Glazier - Gershwin Pianist
Every artist has an epiphany. For classically-trained, award-winning pianist Richard Glazier, it happened at age nine, when he saw the film "Girl Crazy" with a score by George & Ira Gershwin. So excited was he by the music he heard, Glazier was prompted to write a fan letter to famed lyricist Ira Gershwin. Glazier dedicated himself---that very day---to the Gershwin repertoire and the American Popular Songbook, eventually becoming one of the genre's leading authorities.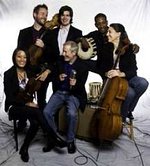 Corky Seigel and Chamber Blues
Corky Siegel's professional music career began in 1964, when he met guitarist Jim Schwall. After a while the duo became a quartet, the Siegel-Schwall Band.
The idea of combining blues and classical music was first suggested by classical conductor Seiji Ozawa. Ozawa brought together the Siegel-Schwall Band and the Chicago Symphony Orchestra. Inspired by his collaboration with Ozawa, Corky Siegel formed Chamber Blues in 1988. The group's music combines elements of classical, blues, and jazz. The band consists of a string quartet - two violins, a viola, and a cello - along with a percussionist, Siegel on harmonica, and sometimes doubling on piano. Chamber Blues is still together. The group has toured nationally and has released three albums.
Join our mailing list:
Please be assured that we never sell or exchange email addresses, this is for the Sanfilippo Foundation use ONLY.