The Eden Palais Carousel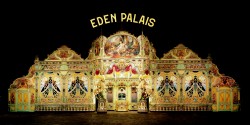 The carousel building, completed in 1997, is the home of the most complete example of a European salon carousel in existence - the 'Eden Palais' (or Eden Palace), built in 1890. The salon carousel was more than just an amusement ride - it was a self-contained entertainment palace that included stages for live performers, several bars, booths for perimeter seating, and music. The whole affair was lighted by hundreds of light bulbs, and was undoubtedly one of the first places that patrons experienced electric lighting when it was new.
The Eden Palais includes an 89' wide by 42' tall carved facade with life-size carved horses, giant art glass butterflies, a painting recreating an original that hangs in the Louvre, and a beautiful etched-glass entryway. The carousel itself is 46 feet in diameter, with 36 hand-carved Hubner horses, four ornate rocking gondolas and a spinning lovers' tub. The center is adorned with seven large Coppier paintings. The platform runs on tracks; three steam engines originally drove the platform, the center hub of paintings and the band organ. The steam engines are restored, but power is now supplied by electric motors.
An 89-key Gavioli band organ provides music for the Eden Palais. Its facade is one of the most beautiful in the world, with two large gold-leafed faces, three angels, a peacock with lighted tail feathers, and beveled glass windows. The center angel plays a harp while ignoring the leering serpent from the garden of Eden.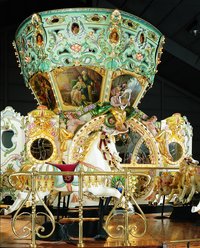 Several different owners toured France with the Eden Palais from 1890 through 1959. An amusement park in Golden, Colorado, imported it from the Caron family in 1959 and then went bankrupt, leaving it outside in the snow for one winter. Charles and Sue Bovey then purchased it and stored it in Great Falls, Montana, until the Place de la Musique collection acquired it in 1987.
Large steam engines surround the carousel, including an 1826 table engine, an 1836 walking beam engine, and an 1880 double compound 80 horsepower marine engine. The 1881 Grant railroad locomotive and tender were used by Henry Ford for forty years in his Dearborn, Michigan auto plant and later displayed in the Ford Museum at Greenfield Village.
The spectacular Joseph Mayer cast iron street clock stands over 20 feet tall, weighs over 8,000 pounds and originally was owned by the American Jewelry Co. of Bakersfield, California. It includes a Dennison gravity escapement, a self-winder, and a mercury-compensated pendulum, features rarely found in street clocks.
American and European fairground and dance hall organs displayed in the carousel building include examples by Bruder, DeCap, Gavioli, Hooghuys, Limonaire, North Tonawanda and Ruth. Wurlitzers include a 157, 165 and 180, among others.
Join our mailing list:
Please be assured that we never sell or exchange email addresses, this is for the Sanfilippo Foundation use ONLY.