American Orchestrion Room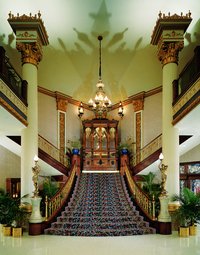 The American Orchestrion Room
From the main entry foyer, the doorway to the left leads into the American Orchestrion Room, featuring a colorful display of some of the most beautiful art glass-front orchestrions ever made, including a Coinola SO, a Peerless Wisteria, a Peerless Arcadian with fancy carvings and hanging lamps, a Peerless Elite with flute pipes, a Cremona J in a 'Byzantine' case, a Seeburg G from Valente's House of Nickelodeons, several Wurlitzer orchestrions, the only known Resotone Grand, a Seeburg J with capitol building art glass, and Seeburg H orchestrions from San Francisco's famous Cliff House collection of the 1950s. Each instrument has been restored and is ready to provide visitors with the happiest music from one of the most exciting eras in history.
A group of Tiffany and other art glass lamps and a large collection of Victorian chandeliers add to the color of the American Orchestrion Room. The line shaft and belt-driven ceiling fans are from Svoboda's Nickelodeon Tavern in Chicago Heights, Chicago's largest collection of coin pianos and orchestrions from the 1950s through the 1970s.
Join our mailing list:
Please be assured that we never sell or exchange email addresses, this is for the Sanfilippo Foundation use ONLY.