Theatre Pipe Organ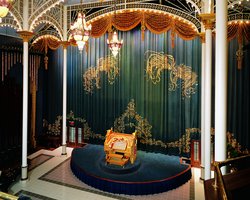 The nucleus of the theatre organ, which was previously installed in the old music room (Wurlitzer opus #1571, built in 1927 for the Riviera Theatre in Omaha) has been expanded to 80 ranks of pipes. The overall result is the most versatile orchestral theatre pipe organ ever built. Behind the scrim are five chambers containing pipes, percussions, wind regulators and controls in a four-story-tall area. The console is patterned after the original from Chicago's Paradise Theatre; it is mounted on the original Peter Clark lift from the Granada Theatre, which raises it from the lower level cage enclosure up to concert playing position.
Mounted on the wall to the left are the 32' Diaphone pipes, and to the right are the 32' Bombarde pipes. A 32-note set of Deagan Tower Bells, the largest of which weighs 426 lb., hang on each side of the room. They are activated by huge solenoids from their own console, the organ console, a roll player, and even the doorbell button. To the rear of the room, the 'Ethereal' pipe chamber in the attic echoes softly from the skylight area, while the brass 'Trumpet Imperial' and copper 'Bugle Battaglia' speak with great authority from the back wall. The organ is connected to a computer, which records the playing of the organist on computer disc, ready to be played back at any time. Spotlights and other lighting effects may also be recorded, so the lighting changes during a concert can be 'played back' with the music.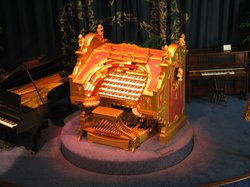 The grand piano connected to the pipe organ is a 9' Knabe concert grand with an Ampico 'A' reproducing player mechanism. To the right of the console is a rare Deagan Piano-Vibraharp, which can be played by its own keyboard or from the organ console. Toward the rear of the room is a Spanish art case Steinway model A.R. Duo-Art reproducing piano, veneered in walnut with boxwood, pear and ebony inlay. A remote Duo-Art Concertola roll changer has been adapted to play Ampico rolls on the Knabe, or Duo-Art rolls on the Steinway, at the touch of a button on its control panel.
Join our mailing list:
Please be assured that we never sell or exchange email addresses, this is for the Sanfilippo Foundation use ONLY.