Steam Engines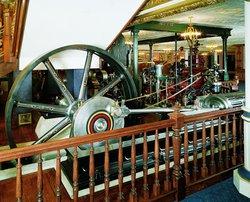 Beneath the Music Room staircase on the lower level is an exhibit of restored engines including a circa 1875 Hayward Tyler & Co. water-cooled hot air engine, a circa 1880 marine engine, an 1856 Wm. Lebby steam engine with a "tower governor", (one of fewer than six known to exist), a circa 1900 "donkey engine", and a circa 1910 300 horsepower, 16 bore, 24 stroke, double-acting box-bed steam engine from the Ford Museum in Dearborn, Michigan. All of the engines have been restored and can be operated by compressed air for demonstration. One engine is connected to a belt-driven overhead line shaft and antique drill press, and another powers an Edison bipolar generator.
Several restored tower clock mechanisms are also on display in the steam engine area and at the foot of the tower spiral staircase, including examples of Howard numbers 1 and 2 with deadbeat escapement, the rare Dennison double three-legged gravity escapement, and one powered by a torque motor. An operating tower clock mechanism is also mounted in the top of the tower and may be viewed ticking away the minutes by anyone who cares to climb the 87 stairs.
Join our mailing list:
Please be assured that we never sell or exchange email addresses, this is for the Sanfilippo Foundation use ONLY.