Locomotive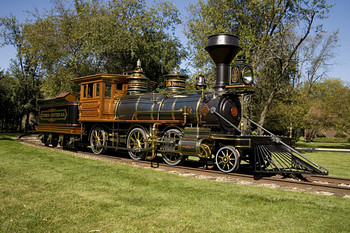 An original 1881 Grant Locomotive and Tender, used in Henry Ford's River Rouge complex in Dearborn, Michigan and later displayed in the Ford Museum at Greenfield Village. Ford converted this from narrow gauge to standard gauge for use in the factory. It was restored by the Sanfilippo Restoration staff.
Other Railway pieces in the Sanfilippo Collection include an 1800s "Victorian Station" Caboose and an elegant Pullman Palace Car, both completely restored by the Sanfilippo Restoration Staff.
Join our mailing list:
Please be assured that we never sell or exchange email addresses, this is for the Sanfilippo Foundation use ONLY.